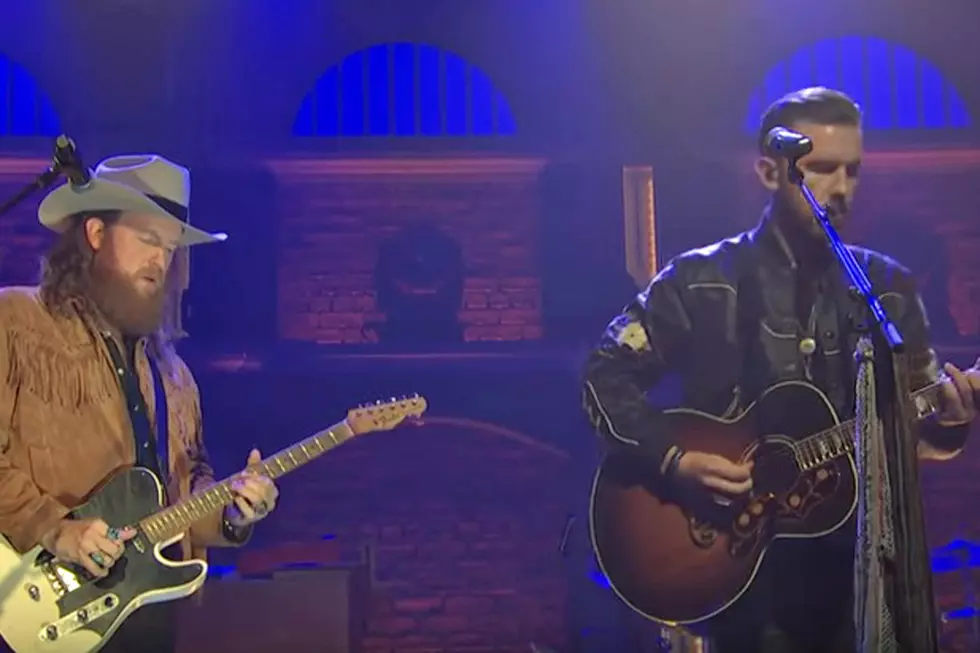 Brothers Osborne Captivate With 'Weed, Whiskey and Willie' on 'Seth Meyers' [Watch]
Late Night with Seth Meyers, YouTube
Brothers Osborne visited Late Night With Seth Meyers on Monday (May 21) to perform "Weed, Whiskey and Willie." The bluesy track is featured on their sophomore album Port Saint Joe and highlights John Osborne's guitar prowess, while TJ's deep baritone brings the lyrics to life.
The duo sing about life throwing them curveballs and the things they can always count on during times of struggle are "weed, whiskey and Willie."
"I've got bottles and vinyl stacked to the ceilin' / I get stoned for survival, it helps with the healin' / And when it all goes to hell the only thing I believe in / Is weed, whiskey, and Willie," the rough-edged duo sing.
The first 20 seconds of their performance featured a memorable guitar part from John before TJ entered on the mic. With added pedal steel accompaniment and light percussion, they get their point across.
The reigning ACM and CMA Vocal Duo of the Year wrote this song with Laura Veltz. "Weed, Whiskey and Willie" has become a favorite in the live setting, and their late show performance showcased exactly why. It's a song Brothers Osborne have been performing for — there's even a T-shirt!
The duo show no sign of slowing their roll following a big win at the ACM Awards in April where the siblings took home two trophies for Vocal Duo of the Year and Video of the Year for their previous single, "It Ain't My Fault." Brothers Osborne recently joined Dierks Bentley for his Mountain High Tour, which kicked off May 18 and runs through the fall.
Country Artists Who Have Smoked Pot and Told Us About It: