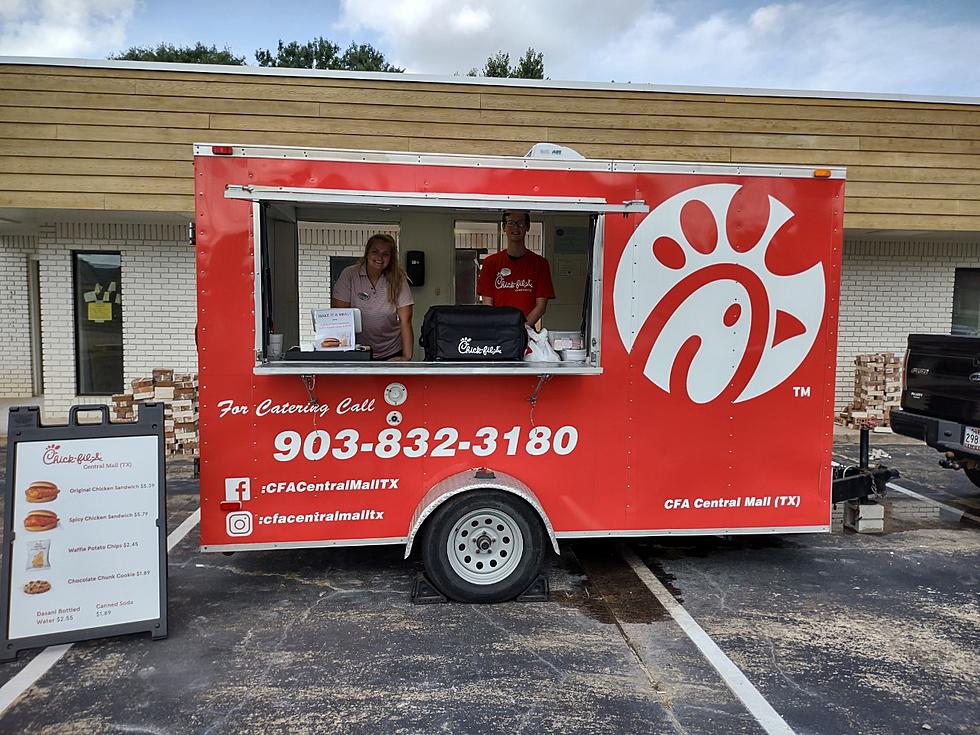 Chick-fil-A on Jefferson Avenue?
Mario Garcia
So, I was driving down Jefferson Avenue headed to lunch on Thursday last week when something caught my attention. Chick-fil-A?
I think I did a double-take whenever I saw a sign that said, "Now Open" with a stream of banners and the Chick-fil-A logos near the street, that's when I noticed the new Chick-fil-A (Central Mall) mobile serving trailer. So I pulled in and sure enough that delicious Chick-fil-A sandwich we've all come to love was being served right on the spot.
Cooked fresh in-house-daily, then taken to various locations within a 30-40 mile radius Chick-fil-A is hoping to provide its customers who may not be able to make a run to Chick-fil-A for whatever reason. The good news here is that Chick-fil-A will now be set up on Jefferson Avenue next door to Family Dollar every Thursday from 11:30 PM to 1:30 PM or until the food runs out, according to the employees who were there.
Of course, with their serving trailer, only a selected menu will be available to purchase.
Original Chicken Sandwich
Spicy Chicken Sandwich
Waffle Potato CHIPS (unfortunately real fries don't travel well)
Chocolate Chunk Cookie
Bottled water and can drinks will also be available.
When it comes to putting their customers first Chick-fil-A has in my opinion, has always done a great job of getting the food out quickly with friendly courteous service.
So, give it a try this Thursday on Jefferson Avenue. Of course, this location will depend on how you respond to going there. It was very convenient for me to drive there from my job as opposed to going to their mall location.
By the way, you can pre-order your meal here and they will have it ready when you arrive. Want to join the Chick-fil-A team? Now hiring!
LOOK: 40 Discontinued & Special Edition Kellogg's Cereals
LOOK: Here is the richest town in each state
Just saying the names of these towns immediately conjures up images of grand mansions, luxury cars, and ritzy restaurants. Read on to see which town in your home state took the title of the richest location and which place had the highest median income in the country. Who knows—your hometown might even be on this list.