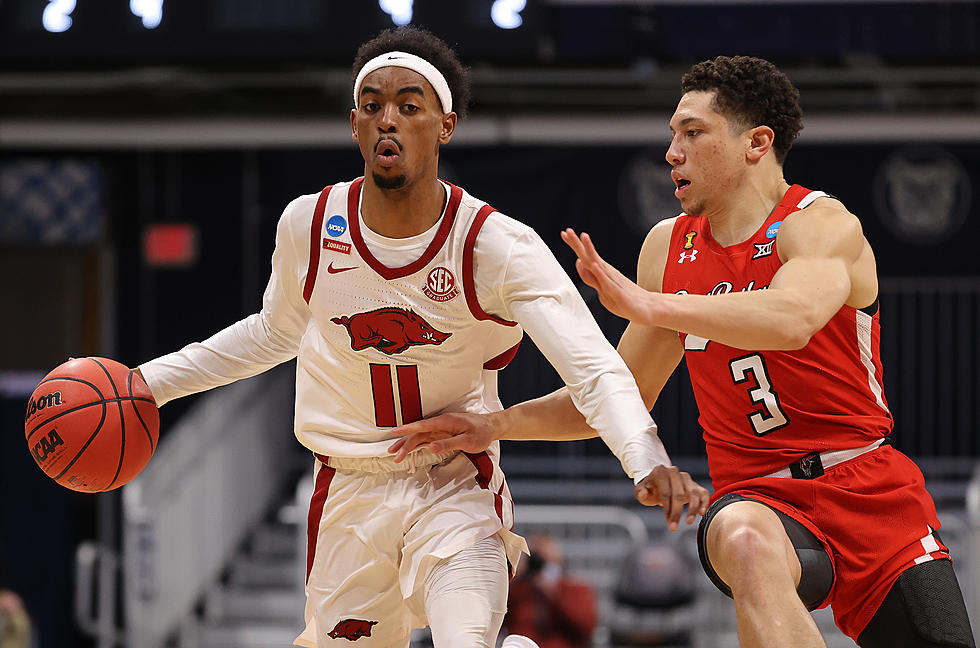 Coaches + Players Preview Arkansas vs Baylor Elite 8 Matchup
Getty Images
The stage has been set for the #3 seed Arkansas Razorbacks basketball team to take on the # 1 seed and third-ranked Baylor Bears in the South Region of the NCAA Basketball Tournament in Indianapolis, Indiana in a late-game tonight. Tipoff set for 8:57 PM central time on CBS.
The winner of tonight's elite 8 March Madness matchup advances to the Final Four. Tonight's game marks the first-time since 1995 and the 11th time that the hogs have advanced to the Elite 8. In 1995, the Nolan Richardson-coached team went all the way to the Final Four after winning the National Championship in 1994 then finished as the runner-up in 1995 after losing to UCLA  89-78, who advanced into the Elite 8 yesterday.
According to Arkansas Razorbacks.com, the Baylor Bears are one of the oldest rivals of Arkansas from the former Southwest Conference days dating back to 1923-1924. This will mark the 144th all-time meeting between the two schools. Arkansas leads the series 96-47.
Both teams like to play stifling defense and in-your-face basketball so this should be an exciting game from start to finish. I think the team that plays the most aggressively, gets to the basket and hits their free throws wins this game. Guards are the key to this victory on both teams. Personally, I'm still pinching myself we've made it this far. Win or lose, I'm happy for this team, coaches, and the Arkansas fans. It's been a long time coming. Go Hogs!
Hear what Coach Muss has to say about tonight's matchup.
Hear what Coach Drew has to say about tonight's matchup
https://www.xxlmag.com/news/2019/10/hip-hop-albums-no-weak-songs/