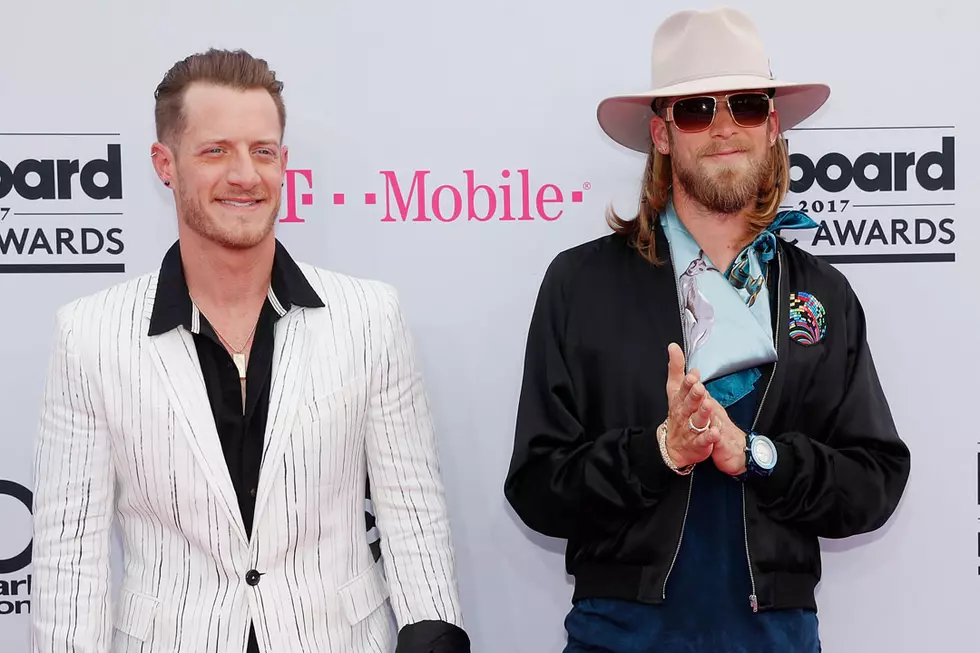 Florida Georgia Line Make $10K Donation to Las Vegas Victims Fund
Isaac Brekken, Getty Images
The country music community steps up in times of tragedy. After Sunday's (Oct. 1) deadly mass shooting at the Route 91 Harvest Festival in Las Vegas, Florida Georgia Line wanted to do their part to help.
And they're calling on others to do the same.
On Monday, the duo shared the link to a GoFundMe page for the shooting victims, set up by Clark County Commission Chair in Las Vegas Steve Sisolak as a relief fund for the victims and their families. Florida Georgia Line gave $10,000 to the cause, encouraging their friends Thomas Rhett, Tim McGraw, Luke Bryan, the Backstreet Boys, Jason Derulo and Bebe Rexha to donate, as well.
Photos From the Shooting Scene Show Chaos, Courage
"Calling on the rest of you to donate what you can, any amount, it doesn't matter. Every little bit helps. Let's give the hurt families one less thing to worry about in this time of distress," they write. Rhett was quick to post that he had accomplished the goal.
"Times like this call for us to come together and do what we can to make a difference," FGL continue. "Let's ease the financial burden on the families and victims of this senseless tragedy. Much love y'all."
Donations have reached nearly $3.4 million in less than two days since the massacre.
Jason Aldean was performing his song "When She Says Baby" when 64-year-old Stephen Paddock opened fire from his hotel room at the Mandalay Bay Resort and Casino onto the crowd of thousands of fans gathered at the Las Vegas Village for the festival. The tragedy left at least 59 people dead and hundreds injured.
The Route 91 Harvest Festival released an official statement about the shooting on Tuesday (Oct. 3), saying: "On behalf of the entire Route 91 Harvest Family, we are completely devastated by the event that occurred Sunday night. Our deepest sympathies go out to the injured and the deceased and their loved ones, senseless violence has claimed the souls of our fans and we have little in the way of answers."
Jake Owen, Chris Young Describe the Shooting