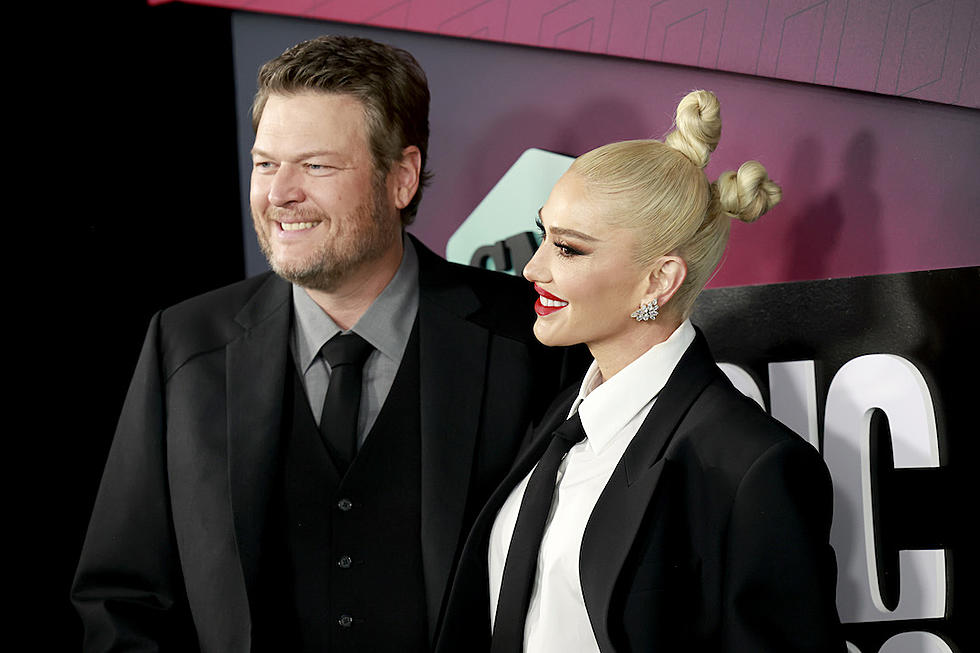 Blake Shelton + Gwen Stefani Share Wedding Throwbacks for Their 2nd Anniversary
Emma McIntyre, Getty Images
Blake Shelton and Gwen Stefani are celebrating their second wedding anniversary on Monday (July 3), and both stars marked the occasion with throwback shots remembering the day they tied the knot.
Shelton's message to Stefani is simple and sweet, letting her know that he's still just as in love with her as he was on their wedding day.
"Happy anniversary [Gwen Stefani]!!!!" the singer writes. "Every day has been the best day since I met you."
To go along with his anniversary message, Shelton shared a snapshot from their wedding day. In the photo, he and his freshly-minted bride share a kiss at the reception, standing beside their multi-tiered, custom-constructed wedding cake and wearing all their nuptial finery.
Stefani and Shelton's wedding ceremony was lovingly planned down to the last detail, and the cake pictured in the country singer's anniversary post is no exception. After their wedding day, the couple revealed that the cake was a sentimental tribute to Stefani's family history: They commissioned a boutique bakery to recreate a version of the cake that Stefani's parents had at their own wedding ceremony complete with a free-hand piping style.
The bride's lavish Vera Wang gown was a personal touch, too: Stefani had her name, Shelton's names and her three sons' names embroidered into the veil that she wore when she walked down the aisle.
Stefani also marked the couple's second anniversary by remembering their special day, but instead of posting just one photo, she created a video montage that features several of their best moments over the years.
The video looks back on time they spent together hanging out with Stefani's three kids, walking into the Grand Ole Opry and celebrating Shelton's last episode on The Voice. Look close and you might even see a throwback video of Shelton rocking an oversized pink bunny costume for Easter!
The video montage is set to Stefani's new song, "True Babe," a love song that was inspired by her romance with her country star husband.
Shelton and Stefani met on the set of The Voice back in 2014, when both were coaches on a season of the show. They began dating the following year, after Shelton's divorce from fellow country star Miranda Lambert and Stefani's divorce from Gavin Rossdale.
The pair announced their engagement in October 2020, and officially tied the knot in a specially-built chapel on their Oklahoma property on July 3, 2021.
Gwen Stefani and Blake Shelton: A Timeline of Their Love
See Blake Shelton + Gwen Stefani's Stunning California Mansion:
Gwen Stefani's Other Mansion Was Mind-Blowing: