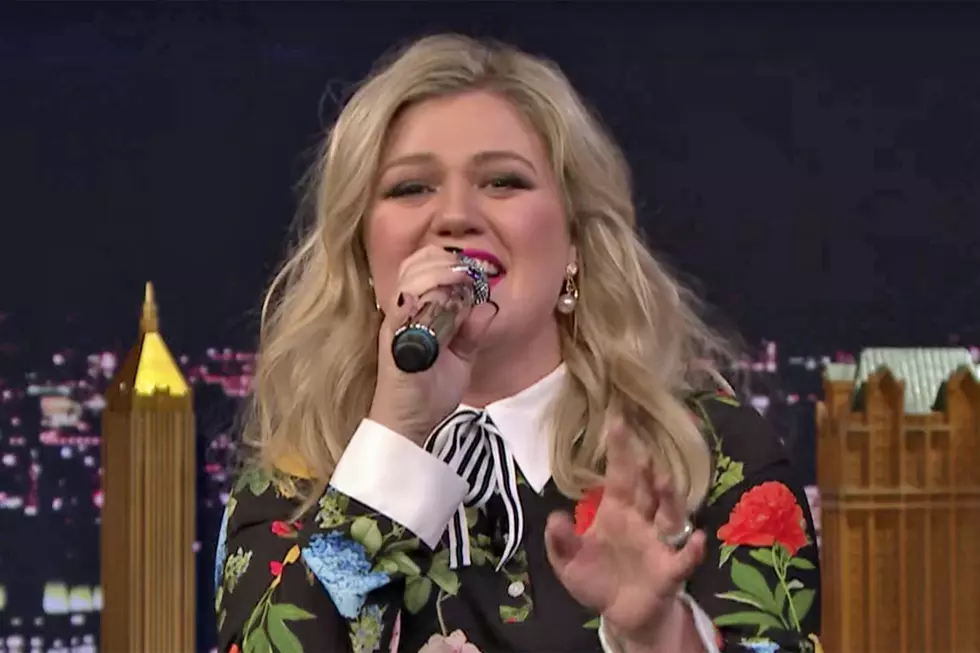 Kelly Clarkson Sings Google-Translated Hits and Can't Stop Laughing [Watch]
YouTube
Ever wondered what a Kelly Clarkson song would sound like translated into Mongolian and then back to English? Well, you're in luck!
Clarkson appeared on the Tonight Show Starring Jimmy Fallon on Monday (Feb. 26) and delivered the goods during a game of Google Translate Songs, in which Fallon takes some of the world's most notable hits and translates them into a foreign language and back, this time Mongolian.
The translations turn out just as wacky as you would expect — better, actually — and Clarkson got to sing the mangled version of her own hit, "Stronger," which became "Too Strong" when put through the machine. In place of the song's original lyrics "What doesn't kill you makes you stronger / Stand a little taller / Doesn't mean I'm lonely when I'm alone," Clarkson does an impressive job keeping up the jumbled, translated lyrics: "If you don't kill it then it's too strong / Remain in a small place / My dreaming by myself is not my fault."
As the kind of singer who sounds flawless regardless of what she's singing, leave it to Clarkson to knock the Mongolian-translated version out of the park, even though she couldn't stop laughing at the bizarre adaption of one of her biggest hits.
The audience got even more of a treat when she and Fallon teamed up for Sonny and Cher's famous duet, "I Got You Babe," or known in Mongolian as "I Have Your Child," sounding as natural as they could while belting: "All right therefore truth unknown / You have me and I am your child."
Clarkson made her debut as a judge on The Voice on Monday night, too, battling Blake Shelton playfully throughout the episode. She ended up with the most new team members, including 14-year-old Brynn Cartellli and Justin Kilgore, a man who won over the judges and fans with this emotional story of living as a gay person in a small Texas town (He's also a huge Reba McEntire fan, so Clarkson may have cheated a bit to gain his loyalty).
The Voice Moments We'll Never Forget
Who's Country Music's Most Successful The Voice Star? You'll Be Surprised!