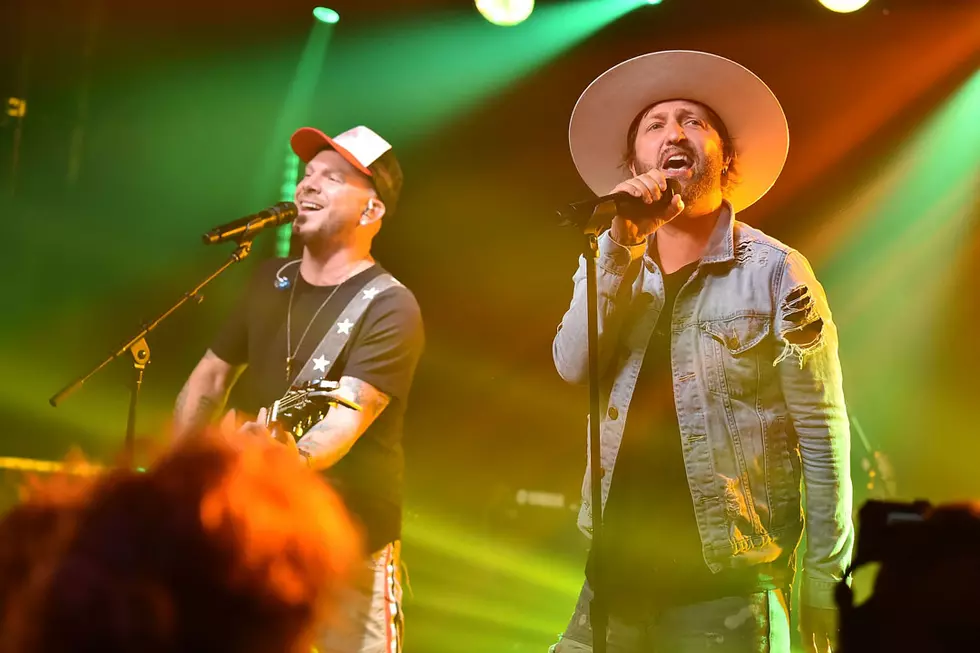 LoCash Set Sights on 2018 Pepsi Tailgate Tour
Theo Wargo, Getty Images
One month after the announcement of their new record deal, LoCash are set to hit the road on a special tour. The country duo have matched up with Pepsi to headline the 2018 Pepsi Tailgate Tour throughout fall of 2018. The tour coincides with football season, and brings the singers to various cities across the U.S. for key college and NFL football games.
The popular drink brand is throwing the ultimate tailgate party in major football towns including Foxborough, Mass., Philadelphia and Pittsburgh, Pa., and Arlington, Texas, with LoCash performing before games in which the Dallas Cowboys face off against the New York Giants, the Pittsburgh Steelers play the Baltimore Ravens and the New England Patriots take the field against the Green Bay Packers.
Each event will feature music and classic tailgating games including Jenga and cornhole, along with surprise appearances by NFL players and cheerleaders.
"We're super excited to be partnering up with Pepsi and being part of the Pepsi family. Teaming country music and football fans is the perfect combination for a party!!" Chris Lucas of LoCash says in a press release.
The news of the tour comes hot on the heels of the release of their latest single, "Feels Like a Party," which was added to country radio on Tuesday (Sept. 4). "Good things sure do happen in pairs; Thank you, country radio for embracing this song, we're so honored and appreciate your support," adds LoCash's Preston Brust. "This, on the heels of the Pepsi Tailgate Tour news made today an incredibly special day for us."
The chart-topping duo signed with Broken Bow Records' imprint Wheelhouse Records in August of 2018, just days before the birth of Brust's second child, Legend Wilde. The Pepsi Tailgate Tour begins and ends in Philadelphia, kicking off Sept. 6 and ending on Dec. 8.
Locash 2018 Pepsi Tailgate Tour Dates:
Sept. 6 - Philadelphia @ Great Plaza at Penn's Landing
Sept. 15 - Arlington, Texas @ Ohio State vs. Texas Christian University
Sept. 16 - Arlington, Texas @ Cowboys vs. Giants
Sept. 29 - University Park, Pa. @ Ohio State vs. Penn State
Sept. 30 - Pittsburgh  @ Steelers vs. Ravens
Oct. 11 - East Rutherford, N.J. @ Giants vs. Eagles
Oct. 14 - East Rutherford, N.J. @ Jets vs. Colts
Oct. 21 - Landover, Md. @ Redskins vs Cowboys
Nov. 4 - Foxborough, Mass. @ Patriots vs. Packers
Dec. 2 - Miami Gardens, Fla @ Dolphins vs. Bills
Dec. 8 - Philadelphia, Pa. @ Army vs. Navy
Best Country Songs of 2018 (So Far):