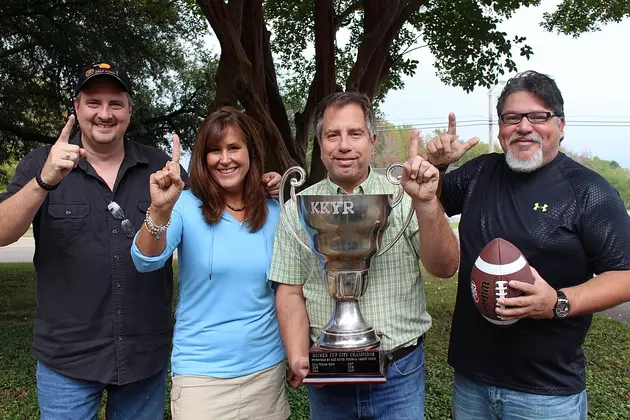 Pleasant Grove Leads in Early Kicker Cup Standings
Townsquare Media
The Pleasant Grove Hawks football team has the early lead in the Kicker Cup City Championship standings for this year.
The Hawks are coming out of a bye week with a 2-0 record, with a victory over Arkansas High in their column. The Razorbacks are second with a 2-1 record, including a win over Texas High. The defending Kicker Cup champion Tigers are in third place with a 1-2 record, which includes last Friday's win over Liberty-Eylau. The Leopards are currently 0-3, but hope to notch their first win of the season this week against Atlanta.
For those of you who do not know, the Kicker Cup is a "Huge" Traveling Trophy, that our radio station, KKYR  Kicker 102.5 awards each year to the Texarkana high school football team that finishes the regular season with the best record.
In case of ties we look at head to head match ups as the first tie breaker. If there is a three way tie, the second tie breaker would be better overall point differential.
As we head into week 4 here are the complete standings:
1. Pleasant Grove  2-0   +39
2. Arkansas High   2-1   +16
3. Texas High         1-2   -10
4. Liberty-Eylau      0-3  -25
The Kicker Cup City Championship is now in its 22nd year, having been established back in 1996. We want to thank Rogers Trophies and our sponsor Red River Credit Union.
At the end of the regular season we will go to the winning team's first playoff pep rally and award the traveling trophy to the coaches and players.
We will continue to update the standings as the season progresses and good luck to all our Texarkana teams.