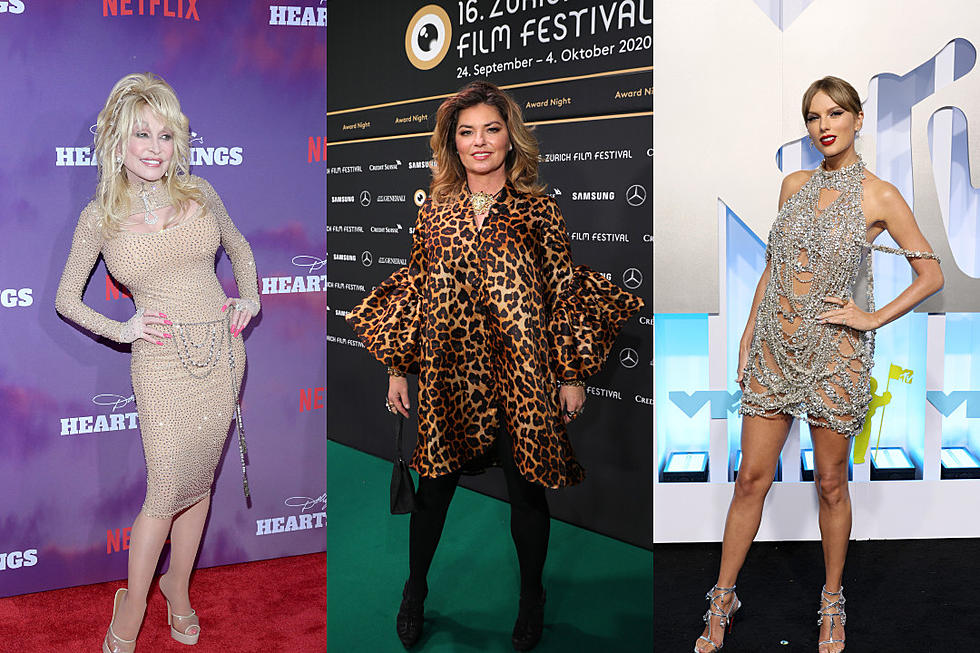 Shania Twain Applauds Dolly Parton, Taylor Swift + More 'Queens' on International Women's Day [Watch]
Jason Kempin, Andreas Rentz, Dia Dipasupil, Getty Images
Shania Twain is celebrating "queens" — both in the music industry and outside of it — in a social media post on International Women's Day (March 8).
"Today and every day women are leading change and making a difference like the absolute queens we are!" Twain writes in her post, alongside a montage video set to her song, "Queen of Me." "I wanted to highlight a few women who have inspired me and make me feel hopeful — Who are the women that inspire you? Let's shout out some queens!!"
The video spotlights inspirational women in Twain's life and offers some reasons as to what makes each of them so powerful and groundbreaking. For example, the video applauds Taylor Swift's Midnights album for being the first album to sell over a million copies in its first week, breaking a record set by Swift's own Reputation album in 2017.
Twain also recognizes Kelsea Ballerini for "consistently advocating for women in country music and challenging the industry" and Dolly Parton for receiving the 2022 Carnegie Medal of Philanthropy for her career-long charitable endeavors.
It's not just country artists who get the spotlight in Twain's International Women's Day post: Adele, Avril Lavigne, Beyoncé, Mary J. Blige, Kelly Clarkson and Rina Sawayama also get shoutouts, as does pop star Kim Petras, who became the first trans woman to win a Grammy in 2023 when she won an award for her Sam Smith duet, "Unholy."
Twain also includes some athletes in her post, mentioning Isabelle Weidemann, Ivanie Blondin and Valérie Maltais, three speed skaters who set an Olympic record on behalf of Twain's home country of Canada. Also noted are the "queens" of England's women's national football team, known as the Lionesses, who won the UEFA Women's Euro 2022.
Fans poured into the comments section to add their own "queens" to Twain's tribute post. Michelle Obama and Simone Biles were two famous names pointed out by fans, and many of them also spoke about the inspirational women in their personal lives, such as their mothers and grandmothers.
Twain's Queen of Me album arrived in early February. She'll be busy on the road this year, as her Queen of Me Tour launches in late April and extends into mid-November.
Top 25 Shania Twain Songs — Her Biggest Hits and Best Deep Cuts
Shania Twain
's best songs changed country music in ways never imagined before 1995. The superstar's career as a charting recording artist lasted less than a decade and included few accolades (including just one CMA Award) relative to her commercial success, but few female artists under 40 will fail to name her as one of three major reasons they chase this country music dream for a living. Perhaps only Dolly Parton is listed more frequently as an influence.
This list of Shania Twain's best songs considers commercial success, cultural importance, legacy and song quality. Scroll through to see which of her songs is No. 1 and click on any link to listen.