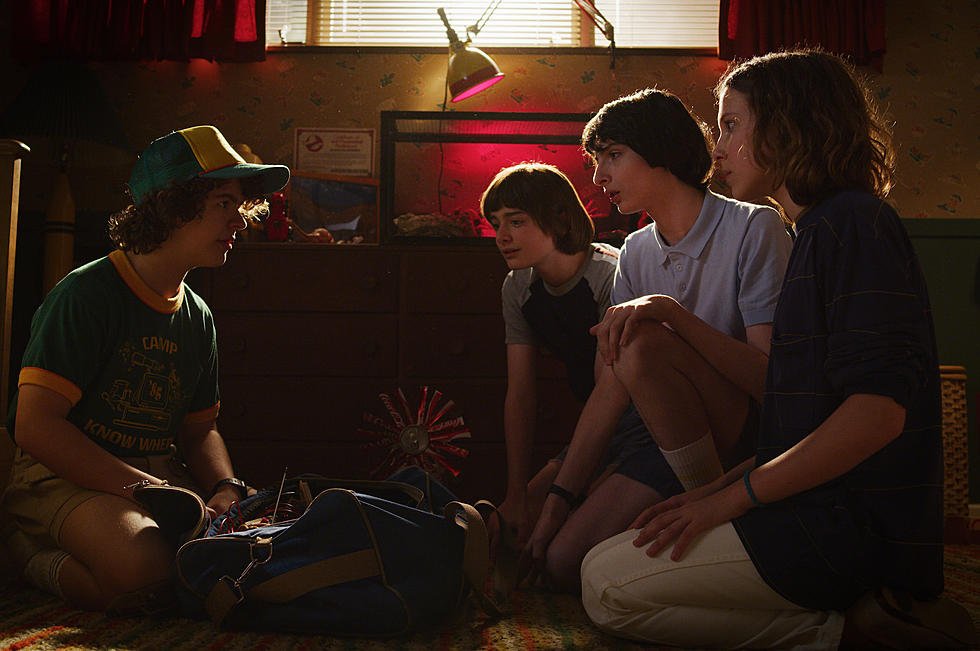 'Stranger Things' Season 3 Gets a Soundtrack
Netflix
'80s nostalgia abounds in the hit Netflix series Stranger Things, and with the third season now arriving for fans to watch, there's also a new soundtrack.
While this new season of the series is loosely set around 1985, the soundtrack does include a number of non-'80s selections, including The Who's '60s classic "Baba O'Riley," Foreigner's '70's rocker "Cold as Ice" and pre-rock era tracks from Patsy Cline ("She's Got You") and Vera Lynn ("We'll Meet Again").
But alas, the key here is building the feeling of the era, and the soundtrack definitely sets you right back in the day with cuts from Howard Jones, Madonna, John Cougar Mellencamp, The Pointer Sisters, REO Speedwagon, Wham!, Weird Al Yankovic, The Cars, Corey Hart, Teena Marie and Huey Lewis and the News filling out the playlist.
The Stranger Things kids even get in on the fun, with Gaten Matarazzo (Dustin) and Gabriella Pizzolo (Suzie) leading a performance of Limahl's "Never Ending Story."
The soundtrack will be available in digital and physical formats, with a vinyl option as well. Vinyl copies come with a poster and 7" single featuring the cast recording of "Never Ending Story." The vinyl orders will ship on July 26. Get your pre-orders in here and check out the new season via Netflix.
Stranger Things Season 3 Soundtrack
1. "Baba O'Riley" – The Who
2. "Things Can Only Get Better" – Howard Jones
3. "Material Girl" – Madonna
4. "Cold as Ice" – Foreigner
5. "She's Got You" – Patsy Cline
6. "R.O.C.K. in the U.S.A." – John Mellencamp
7. "Neutron Dance" – The Pointer Sisters
8. "Can't Fight This Feeling" – REO Speedwagon
9. "Wake Me Up Before You Go-Go" – Wham!
10. "My Bologna" – "Weird Al" Yankovic
11. "Moving in Stereo" – The Cars
12. "Never Surrender" – Corey Hart
13. "Lovergirl" – Teena Marie
14. "Workin' for a Livin'" – Huey Lewis & the News
15. "We'll Meet Again" – Vera Lynn
16. "Never Ending Story" – Gaten Matarazzo and Gabriella Pizzolo
Stranger Things Questions for Season 3