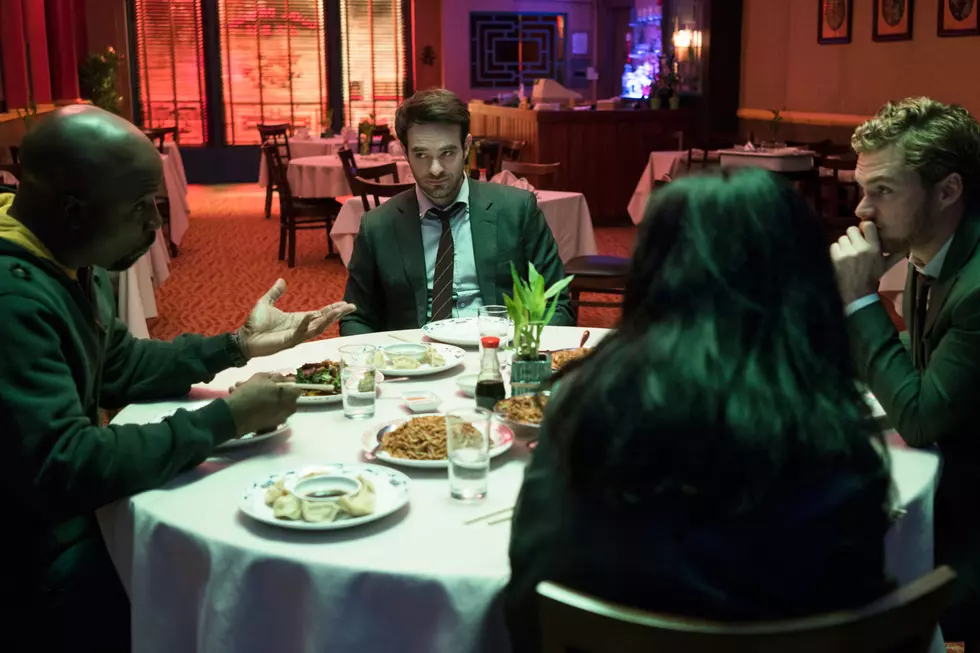 ScreenCrush Staff Picks for What to Watch the Weekend of August 18
Netflix
If you can't decide what to watch this weekend, ScreenCrush's Staff Picks are here to help. They're like the recommendations at an old video store, except you don't have to put on pants or go outside to get them. Here are four things to watch this weekend:
Why settle for one Noomi Rapace when you can get seven? What Happened To Monday (which was briefly retitled Seven Sisters before reverting back to its original title) is Orphan Black with a dystopian twist, set in a futuristic world suffering from overpopulation. The government enforces a strict one-child only policy, and if you give birth to more kids? Glenn Close's evil CEO makes sure all the siblings get captured and cryonically frozen until the planet solves their resource shortage problems. But when Terrence Settman's (Willem Dafoe) daughter gives birth to septuplets, he refuses to give them up. He names the girls for each day of the week and raises them in secrecy. Each sister is only allowed to leave the house once a week, on the day of their name, when they assume a singular identity as Karen Settman. But things go south when one of the sisters goes missing. It's a clever premise and watching Rapace play seven different roles Tatiana Maslany-style is a gimmick that pays off. Each sister is distinct in her style and personality and What Happened To Monday is proof that we simply haven't been appreciating Rapace's talents enough.
What Happened To Monday is available on Netflix.
---
If you want to turn Steven Soderbergh's awesome new heist film, Logan Lucky, into a double feature, consider pairing it with Ocean's Twelve, maybe Soderbergh's most underrated movie to date. Though it was not well-liked on its initial release, and is often cited as Soderbergh's worst movie (Has no one seen Full Frontal?!?), Ocean's Twelve is in fact a great sequel, and, as I've been arguing for years, a great sequel about sequels and how tricky they are to make. George Clooney's Danny Ocean and the rest of his team are forced to reunite against their will in a desperate scramble to make some quick cash. Why else do people make sequels? Danny worries they're "forcing it" this time, while the crew tries to outwit a French master thief (Vincent Cassel) and a Europol agent (Catherine Zeta-Jones) hot on their trail. It works as a sly satire of Hollywood culture, and as a criminally funny heist picture. They're not, but Soderbergh's willingness to lay bare his anxieties about selling out make Ocean's Twelve criminally fun.
---
The Devil of Hell's Kitchen. The smart-ass detective. The righteous ex-con, and the kid with the glowing fist. It's taken two years and five seasons (four, if you refuse to acknowledge Iron Fist as actual television), but The Defenders have finally assembled, and they're ... well, they're pretty good so far. Four loosely-connected episodes of an eight-hour team-up isn't the easiest way to get a sense of whether or not Marvel actually pulled off its Netflix experiment, but what starts as bite-size chunks of four different series really starts cooking once the crossovers get going in the middle hours. You'll still have to put up with Finn Jones' petulant Danny Rand, but the promise of catching up with Jessica Jones after two whole years is worth the price of admission. If Defenders sticks the landing, we might even keep an open mind toward Iron Fist Season 2 and The Punisher.
The Defenders is available on Netflix.
---
We're coming down from the height of summer, which means the weather is still warm, the air is more humid by the day, and it's the perfect time of year to watch a show set in the Arctic Circle. Fortitude, first broadcast on Sky Atlantic and then picked up by Amazon, takes place in a fictional town located in Svalbard where everything is cold and the inhabitants seem to be starting to lose their minds. It stars Richard Dormer (Beric Dondarrion from Game of Thrones) as the town's sheriff, Stanley Tucci, and Christopher Eccleston; Dennis Quaid even pops up in Season 2. Fortitude is a town populated by people from all over the world who find themselves in the midst of a perfect storm of ancient plague, murder, and some truly horrifying bug stuff after a real hero unearths a petrified mammoth carcass from beneath the ice. Let me make this clear: this show is not for the squeamish, and halfway through the first season it hits you with a scene of such graphic body horror I had to look away from my screen. But if you're not too bothered by that, and if you enjoy murder or snow or insects or the clean lines of Ikea furniture or saying "glacier" with three syllables instead of two, this is perfect under-the-radar entertainment.