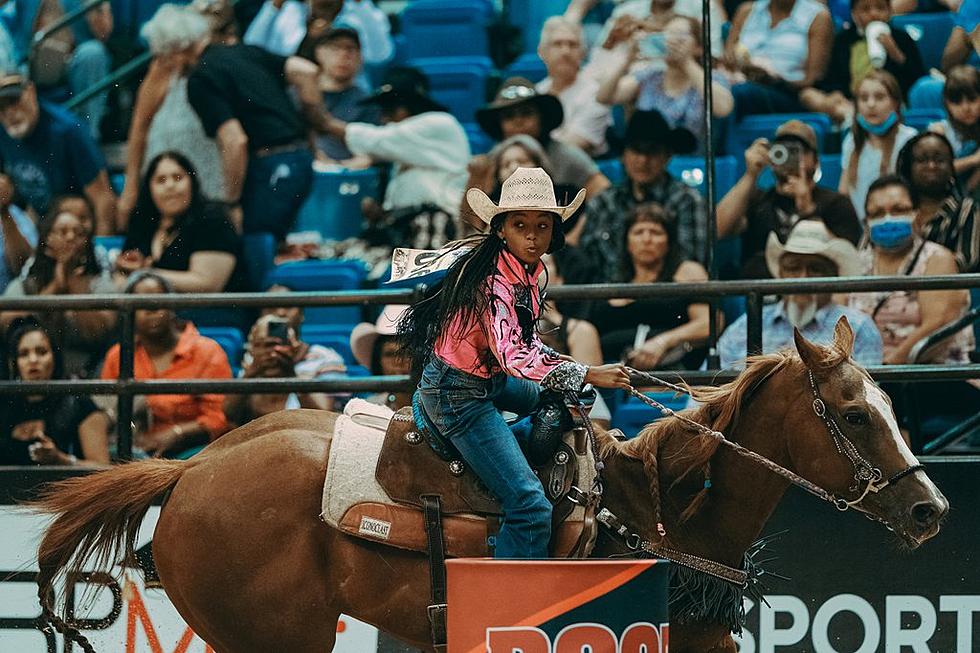 11-Year-Old Girl Makes History at First Nationally Televised Black Rodeo
ESPN
Kortnee Solomon, an 11-year-old cowgirl wowed onlookers at the first nationally televised Black Rodeo.
The Showdown In Vegas is the first nationally televised Black Rodeo. This year it featured seven professional events, including bareback, bulldogging, and calf roping. Kortnee participated and made history alongside the other cowboys and cowgirls, becoming the first nationally televised Black Rodeo. Check her out below.....
Kortnee is a 4th generation cowgirl, is no stranger to the rodeo world as she debuted at the Bill Pickett Rodeo at just 5-years-old, keeping her family legacy alive AND creating one of her own. According to "Because Of Them We Are," Kortnee Solomon is a fourth-generation Texas cowgirl. Her mother is 11-time invitational champion, Kanesha Jackson, and her father is Professional Rodeo Cowboys Association tie-down roper, Cory Solomon. Her grandmother is Stephanie Haynes, an 18-time invitational champion who also serves on the Bill Pickett Invitational Rodeo board, and her late grandfather was Sedgwick Haynes. He served as general manager of the Rodeo before his passing.
Kortnee and her mom live in Hempstead, Texas where they take care of their horses. Kortnee's horse is named Tiny. And like many people are attached to and well acquainted with the temperaments and personalities of their dogs, Kortnee and her mom are kinda like "horse whispers" for lack of a better term.
"We have a great relationship with the horses, it's almost like we talk to them, and they talk to us. It's very much like people and their dogs. All the horses have their own unique personality - some are laid-back, some are very outgoing, Jackson told "Because Of Them We Are".
Horses and rodeo are not the only interests Kortnee enjoys. Her mom likes for her to stay well-rounded...
"I want Kortnee to live through her own purpose. She loves horses, but she also does dance, gymnastics, cheerleading, and basketball. I want her to experience everything, so she doesn't feel like she missed out during her childhood, Jackson (Kortnee's mom) shared.
I don't believe The Show In Vegas is the last televised Black Rodeo, and it's most definitely not our last time hearing from little Miss Kortnee Solomon.