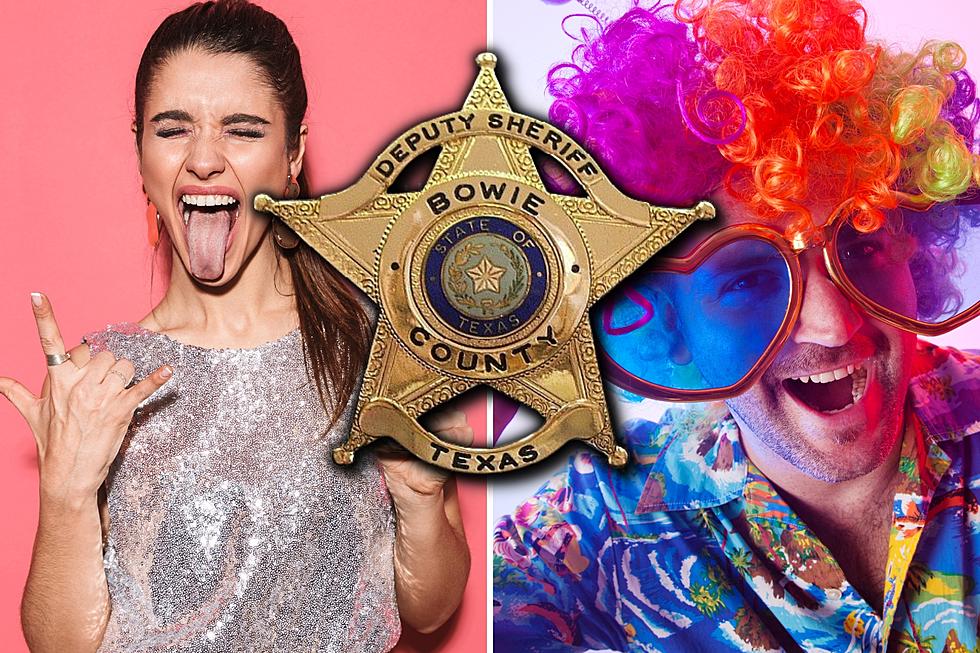 59 Total Arrests Last Week – Bowie County Sheriff's Report For May 22
BCSO - Summer Approaching - Canva
The first official day of summer is still a month away but the summertime shenanigans have already begun. Luckily, last week's arrest numbers were lower than the week before but still nothing to get excited about. There were 59 total arrests in Bowie County last week, down from 72 the week before. Bowie County Deputies were responsible for 31 of those, while other area law enforcement agencies brought in 28.
This is last week's report from the Bowie County Sheriff's Office, as always, prepared by Bowie County Chief Deputy Robby McCarver. This report is for May 15 - 21. If you missed the week before, click here.
MONDAY
Estray Livestock-West 7th Street Texarkana
Missing Person-South Bend Road Texarkana
Assault Causing Bodily Injury-North State Line Avenue Texarkana
Death Investigation-Garden Road Hooks
Sexual Assault – North State Line Texarkana
TUESDAY
Possession of a Controlled Substance (methamphetamine) Over 200 Grams and Under 400 Grams-West 20th Street Hooks, arrested: Travis Cain Lewis
Burglary of a Vehicle, Assault Causing Bodily Injury-Cayman Street Texarkana, taken: wallet containing credit cards and personal effects
Burglary of a Habitation-County Road 4284 Simms, taken: residential security system, wiring, carpeting
Assault Causing Bodily Injury-County Road 4242 Dekalb
Credit Card Abuse-County Road 1103 Maud
Financial Abuse (Elderly)-County Road 4113 Dekalb
WEDNESDAY
Unauthorized Use of Vehicle – Buchanan Road Texarkana
THURSDAY
Criminal Mischief Over $100 and Under $750 – West Highway 67, Maud
Vehicle Fire – Warren Thomas Road, Texarkana
Theft Over $750 and Under $2,500 – West Highway 67 Simms, taken: cash for services
Possession of Marijuana Under 2 Ounces/Possession of Drug Paraphernalia – Kilgore Street Texarkana, arrested: Gloyd David Harris Jr.
Deadly Conduct – Tri-State Road Texarkana, arrested: Joshua Guy Allen
FRIDAY
Reckless Driving/Evading Arrest with a Vehicle – Inwood Road Texarkana, arrested: Austin Dakota Taylor
SATURDAY
Criminal Mischief Over $750 and Under $2,500 – Spring Ridge Texarkana
SUNDAY
Driving While Intoxicated 3rd or More – Sunny Lane Texarkana, arrested: Clark Richard Robinson
Death Investigation – George Thomas Road Texarkana
Criminal Trespass – County Road 4317 Dekalb, arrested: Jimmy Lee Vanamburg and Makayla Jordan Bowman
ADDITIONAL ACTIVITY BY BCSO
31 People Arrested by BCSO
28 People Arrested by Other Law Enforcement Agencies and Turned to BCSO
29/8 Civil Papers Cleared/Served by BCSO
BCSO PRISONER TRANSPORTS
73 Inmates Transported to Court
13 Inmates Transported to the Texas Department of Corrections
10 Inmates Transported for Medical Treatment
12 Inmates Transported for Other Reasons
108 Total Number of Persons Transported (Except Arrests by BCSO)
5,549 Total number of Miles Driven for Above Listed Transports
Every Marvel Movie Ever Made, Ranked From Worst to First
From the Captain America serial to Guardians of the Galaxy Vol. 3, we ranked the entire history of Marvel at the movies.
LOOK: Here are 25 ways you could start saving money today
These money-saving tips—from finding discounts to simple changes to your daily habits—can come in handy whether you have a specific savings goal, want to stash away cash for retirement, or just want to pinch pennies. It's never too late to be more financially savvy. Read on to learn more about how you can start saving now. [
From:
25 ways you could be saving money today
]
Kevin Costner + Christine Baumgartner's Relationship Timeline
Kevin Costner
and Christine Baumgartner married in 2004 and look ready to divorce in 2023, but the intricacies of their relationship timeline reveal it's a bit more complicated. Here are photos from throughout their 20-year relationship, including several of their three children.