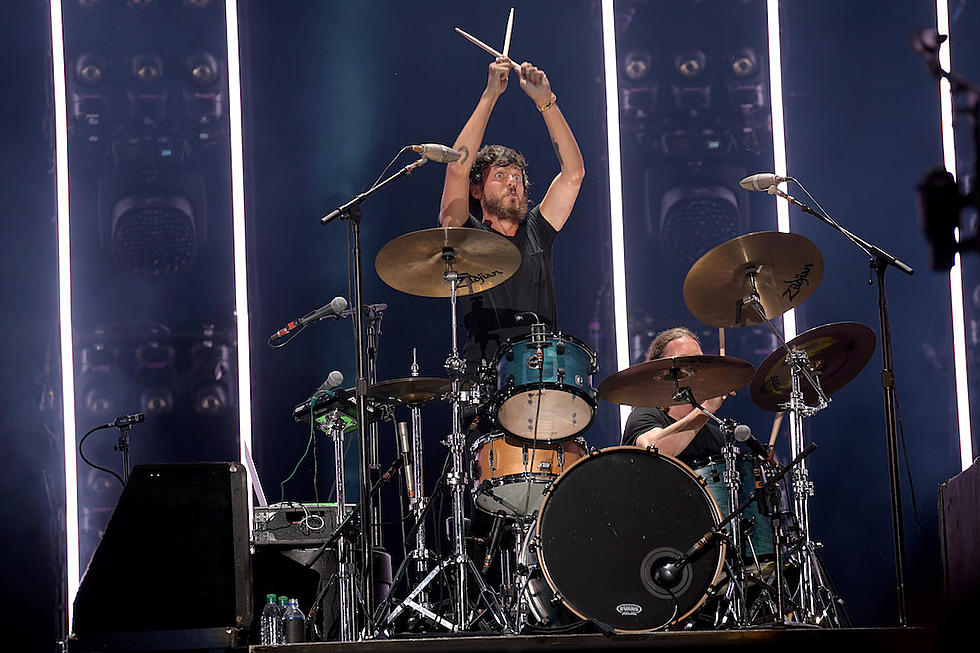 Chris Janson's 'Say About Me' + 9 More New Songs You've Got to Hear [LISTEN]
Jason Kempin, Getty Images
Country stars had plenty of new music to share this week, from all-out jams about living the good life to hometown anthems, odes to intoxicating new love and much more. Read on! 
Chris Janson, "Say About Me":
There's no denying it: Chris Janson is feelin' himself in his new song, "Say About Me." Janson lays out just how well life has treated him -- and where y'all can go if you don't like him. "'Cause I make money, I make music / I got swagger and I use it / Cowboy hat when I feel it / Feather in the back, Zebco reeling," he sings in the song's chorus. "Skip from a Bentley to a 350 / I wake up in the morning to see how it hits me / At the end of the day, I'm just a redneck boy in the hills of Tennessee / And I was raised not to care what people say about me." Although the song lists off plenty of the finer things in life, it doesn't come off as pompous, but instead as a celebration of working hard and cashing in on a heck of a lot of effort. "Say About Me" was written by Janson along with Shy Carter and Tommy Cecil. -- CC
Billy Ray Cyrus & Johnny McGuire, "Chevys and Fords":
Former Walker McGuire member Johnny McGuire's first solo single is the mid-tempo "Chevys and Fords" -- but he's not alone on the track. The reflective track finds McGuire and special guest Billy Ray Cyrus reflecting about their down-home, country roots (they "come from a long line of Chevys and Fords").
"Billy Ray is a living legend, and I'm so honored to be able to work on this project with him. His support has been incredible, and I'm so grateful," McGuire says in a press release. Adds Cyrus, "No matter how you slice it, I'm still Billy Ray Cyrus from Flatwoods, Ky., and I love country music. And I love a great country song. This is such a full-circle moment. It's like starting a new band. I'm so grateful and humbled just to be here." "Chevys and Fords" was penned by McGuire, his former bandmate Jordan Walker, Rodney Clawson and Ben Hayslip. -- CC
Cole Swindell, "All Nighter":
Cole Swindell's latest release might just make you blush. "All Nighter" is a sexy track about spending some quality time with the one you love, featuring a sweet, but forward, chorus. "Girl, the way you move, you're settin' me on fire / Stars are way up high, yeah, you take me higher / Leaning in real close like, baby, hold me tighter / It's looking like it's gon' be an all nighter," he sings. "The way you wear that dress, ain't nobody sleepin' / Lovin' on you, babe, it might take all weekend / You're putting on a show, I'm holding up my lighter / It's looking like it's gon' be an all nighter." "All Nighter" was penned by Swindell along with Jon Nite, Ross Copperman and Ashley Gorley. -- CC
Rodney Atkins, "Thank God for You":
In his latest release, "Thank God for You," Rodney Atkins is giving thanks to the people who are there through thick and thin, whenever it seems as though life has another temptation or plan for him. "I thank God there's angels for young, wild rebels / Girls who can dance you away from the devil / Make my world spin 'round the way you do," Atkins sings. "I thank God for the days just a-front-porch swingin' / Holding your hand, the whole time thinking how lucky I am." "This one immediately hit me as a song for the fans, my supporters, everybody that's had an impact on my life — this song is for them," says Atkins. -- CC
Randy Rogers Band, "I'll Never Get Over You:
The Randy Rogers Band's "I'll Never Get Over You" is a catchy track with decidedly more somber subject matter: Not being able to get over a lost love. The woman in the song is out living her life and making new memories while the guy is left lamenting what once was. Despite the situation being sad, the song almost seems positive, in part because of its quick tempo and easy-to-sing lyrics: "I'll still be sitting right here / Thinking 'bout you, drinking this beer / Wishing I'd done everything right / Hoping you'll come back to me one night / I'll never get over you." "I'll Never Get Over You" will reach country radio on July 29. -- CC
Aubrie Sellers, "Drag You Down":
"Drag You Down," the first glimpse of Aubrie Sellers' upcoming sophomore album, tells a rock-inflected, deliciously sinister story of ensnaring a love interest, compelling him to "trade your happy for some misery." The song injects some garage rock power behind Sellers' trademark country twang and soaring vocals.
"I'm so excited to dive in full throttle and share this new music," Sellers states in a press release. "'Drag You Down' is a snapshot of a sharp feeling, and I hope it's a song people find cathartic to thrash along to when they feel discounted." -- CL
Mitchell Tenpenny feat. Seaforth, "Anything She Says":
When you're in love, there's a chance that you would do nearly anything for the person you're with. Mitchell Tenpenny took that idea and ran with it for his latest song, "Anything She Says," featuring up-and-coming Australian duo Seaforth. "I would wreck all of my plans / Drive until we hit the sands / Catch a sunburn while she tans / I would do, I would do / Whatever she likes / Give her Christmas in July / You ain't gotta tell me twice / I would, I would do anything," the trio sing in the song's playful chorus. -- CC
Sam Outlaw and Sarah Darling, "Forever and Always":
Sam Outlaw and Sarah Darling's romantic new single, "Forever and Always," finds the pair singing about a lasting love. Throughout the track, written by Outlaw, the two exchange verses, joining together for an endearing chorus, in which they reflect on an iconic, timeless relationship, where it first started and where it is headed. "Forever and Always" was produced by songwriter Jeff Cohen and Bill Reynolds, formerly of Band of Horses. -- CC
Drew Baldridge, "Middle of Nowhere Kids": 
Drew Baldridge conjures an anthemic image of hometown pride in his new single, "Middle of Nowhere Kids," which was written by John Pierce, Tony Lane and Randy Montana. It's easy to forget that Baldridge didn't have a hand in writing the song: The singer says that the song perfectly reflects his experience of growing up in small-town Illinois.
"This song is literally my life and everything I stand for," the singer explains to Billboard. "I was that [kid] riding a tractor and dreaming of what it would be like to hear my music being played on the radio one day. Now the world gets to hear my story. This song is an anthem to anyone that grew up the way I did. I'm proud to be a 'middle of nowhere' kid." -- CL
Jackson Michelson, "Stay Over":
Jackson Michelson's newest single, "Stay Over," reflects on a relationship that ultimately isn't going to work out -- although, perhaps, it could work out for just one more night. The lusty new song yearns for just a few more hours together, even knowing full well that in the morning, none of the couples' problems will be resolved.
"'Stay Over' is about an on-again, off-again relationship filled with passion," Michelson tells Taste of Country. "Sometimes the relationship is meant to be, but the timing just isn't right. I wanted to write a song from that vulnerable point of view." --CL