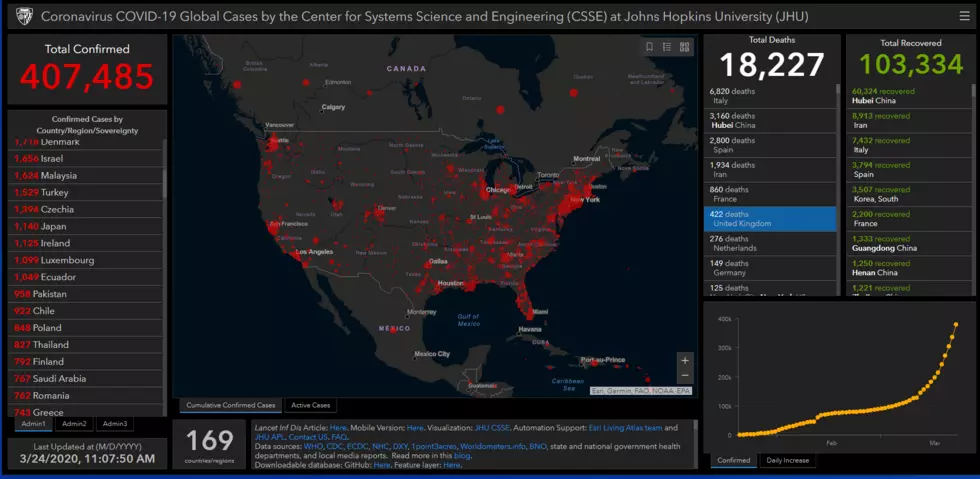 COVID-19 Update For Texarkana Area From Joint Operations Center – 3-24-20
Map of Coronavirus Global Cases by Johns Hopkins CSSE
The Texarkana Joint Operations Center for COVID-19 issued this report as of 10 AM this morning, March 24, 2020:
10:00 a.m.
• At the time of this release, Bowie County has one confirmed case of COVID-19 (Coronavirus). Cass County has one confirmed case. We'd like to remind everyone that because Texarkana is the healthcare hub for a larger region, our hospitals will likely treat patients from several counties. We've received direction from state and federal health authorities that the patients should be counted in their county of origin.
• A rumor has been circulating that there is a positive case of COVID-19 (Coronavirus) at the Bowie County Jail. This rumor is FALSE.
• Please note, if you test positive for COVID-19 (Coronavirus) or have symptoms that indicate you may have the virus, you should not use public transportation and avoid all interaction with the public and other people, including family members. If you have to call 9-1-1, please alert the call-taker of your positive test results or coronavirus-like symptoms.
• We are urging residents to stay home unless it is absolutely necessary to get out. In order to get ahead of the spread of COVID-19 in our community, please stay at home and avoid travelling about. Please avoid any meetings or gatherings of 10 or more people, including staff meetings, and social settings. Do not get groups of children or neighbors together for back yard parties, sleepovers or any other reason that isn't necessary. This time should not be treated as a vacation. Birthday parties should be rescheduled, baseball practice postponed, and you should limit social interactions to as few immediate family members as possible. If everyone cooperates, this will be a temporary situation.
• At this time, it is not recommended to seek out testing for the COVID-19 (Coronavirus) unless an individual cannot manage their symptoms at home with over-the-counter medications. Dr. Matt Young, Local Health Authority, advises individuals who may be feeling ill to treat symptoms with acetaminophen, and avoid nonsteroidal anti-inflammatory drugs, such as ibuprofen. Stay at home until your symptoms are not manageable.
• As a reminder, the EOC is collecting data regarding patients who have been tested, and persons under investigations. We are asking local healthcare facilities to call in and notify EOC personnel of each potential case at (903) 255-5562 or (903) 831-1939.
• Please help us spread the word that there have been telephone scammers preying on the elderly during this pandemic. As a reminder, do not give your personal information out over the phone for any reason.
• We know during this time there is a lot of uncertainty and fear. It can be especially hard for those residents who are experiencing an interruption at their job, or who are dependent on social services for their day-to-day lives. If you or someone you know is feeling anxious or depressed during this time, please seek help. You can call the Disaster Distress Helpline at 1-800-985-5990.
• Several local grocery stores and retail establishments have instituted policies to assist senior citizens with shopping and access to groceries they may need in a safe environment. Visit www.coronatxk.org for a list of these stores and their provisions.
• Please support our local restaurants for carry-out. Most, if not all, of our financial institutions now have their lobbies closed. Most have extended their drive-thru hours. Check their local websites and facebook pages for their update hours.
• Please support our voluntary curfew for minors which is 7:00 p.m. – 7:00 a.m.
• Both Arkansas and Texas have laws in place regarding price gouging. It is prohibited for any prices to exceed 10% of pre-disaster prices. If you notice price gouging occurring at any local establishments, please contact your respective attorney general offices.
• As a reminder, a list of closures and cancellations, the latest information and updates, and daily updates can all be found at www.coronatxk.org. The local hotline telephone number is (903) 255-5560.
Enter your number to get our free mobile app