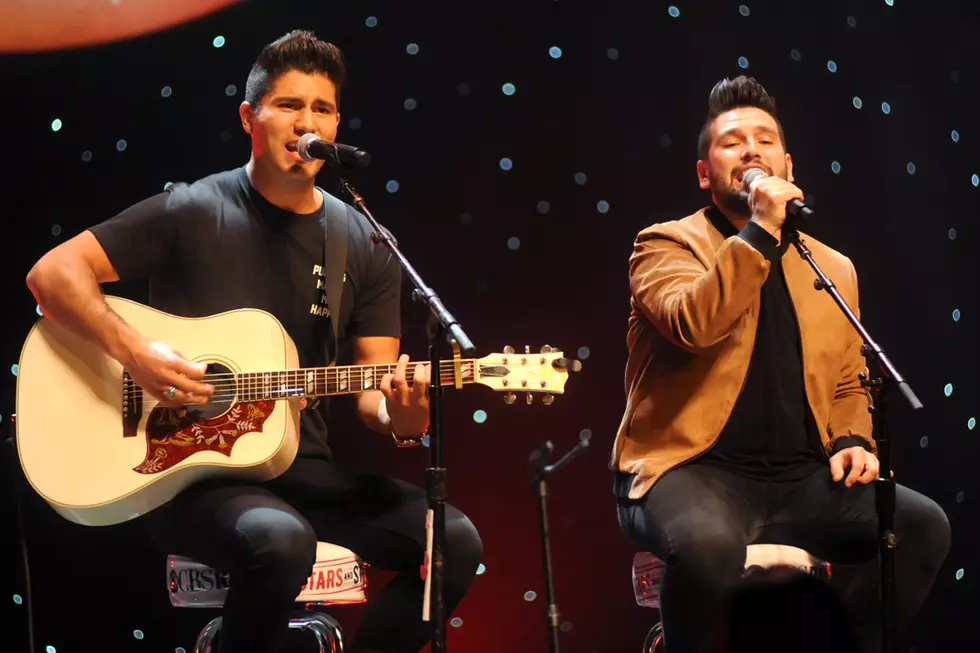 Dan + Shay Celebrate Back-to-Back No. 1 Hits at Nashville Party
Timothy Hiatt, Getty Images
When it comes to putting music together for an album, for Dan + Shay, it's the best song wins. Thanks to this business model, the duo of Dan Smyers and Shay Mooney scored two back-to-back No. 1 hits off Obsessed with "From the Ground Up" and "How Not To," which they celebrated at a joint party in Nashville recently.
Inspired by their grandparents' 65-year marriages, Dan + Shay managed to write the unofficial wedding song of the year alongside Chris DeStefano with "From the Ground Up." They were actually planning to write a Christmas song when they diverted into a heartfelt conversation about their grandparents' life story, as Smyers had just returned from his grandfather's funeral.
"It was an interesting metaphor talking about snow building from the ground up to building a relationship of 65 years," he explains to Taste of Country and other media during a No. 1 party for the hit songs. "And we got about three lines in and we were like, 'We should make this a real song, this feels kind of special.'"
It was a cathartic experience for the writers as they reflected on their grandparents' inspiring journeys. When they witnessed the profound impact the song had on Symer's now-wife, Abby Law, they knew it was a treasure.
"I remember being so emotional about it because it was an emotional day and we finished it and it felt like we had something," he recalls. "I remember I called my girlfriend at the time, my wife now Abby, over to the studio and made her listen and she cried. At that point, we knew this could be something special."
Dan + Shay Share the Story Behind "From the Ground Up"
The song has since become an anthem for love new and long-established, as countless fans have told them it was the first dance song at their wedding. The duo themselves can see the impact during their live shows.
"It broke down barriers for us, it broke down walls, and we would get up in front of big festival crowds in front of 50,000 people and people knew the words," Smyers says. "That was the one that really felt like it sort of tipped the scale and took us to the next level, and we continued the momentum with 'How Not To.'"
Co-written by Adam Adam, Kevin Bard and Paul Digiovanni, "How Not To" proves itself as a powerful breakup song that's hit the nerve of many people going through the pain the song exhibits. Mooney says when they heard the track, it felt like a natural fit, and they knew a hit was placed in their hands.
"We have a lot of people say that helped them through a lot of tough times and it's weird how breakup songs can do that. A lot of those songs are the most healing, as weird as that sounds. The sad songs definitely help people get through some tough times," Mooney says. "So we just always have said let the best song win, and we figured that song was one of the best that we have on that project, and we put it out and it worked."
The duo released their new single "Tequila," as a taste of what to expect off their new album. Though they're tight-lipped on details and release dates, they say fans' reaction to the song makes them "hopeful" for the rest of the project.
Shay Mooney + More Share First Kiss Stories