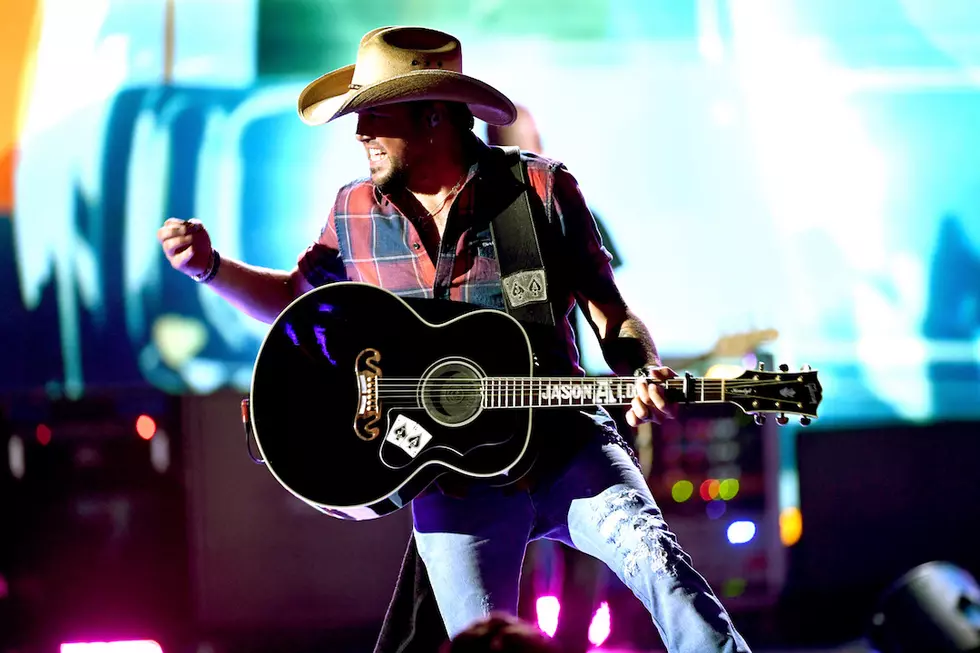 Jason Aldean: Florida Georgia Line Collab Was 'a Chance to Record With My Buddies'
Kevin Winter, Getty Images
In mid-February, fans will get to hear the results of those plans: Florida Georgia Line's Can't Say I Ain't Country album features Aldean on the song "Can't Hide the Red." Kelley and Hubbard co-wrote the track with Rob Hatch, James McNair, Ben Stennis, and during a recent press event, Aldean explained that the idea of doing a song together emerged casually.
"They just sent it to me," he recalls. "I mean, I'm in touch with those guys a lot, and they'll send me songs ... If they know we're going into the studio, they'll send me stuff. This was just one they sent me where they asked if I'd wanna jump on their record and do it.
"It was just a text message," Aldean adds.
For Aldean, contributing to another artist's record is always an interesting experience, no matter whether or not he's good friends with that person. "Working with other artists is always cool because I get to go into the studio, and I know how I record in the studio, but going in with somebody else, it's interesting to see how they work and the things they do," he goes on to say.
"Obviously, the way they record is way different than the way I do it," Aldean continues. "But it was great."
Getting to collaborate with friends, Aldean explains, was the highlight of an already exciting collaboration.
"The song is cool. I got a chance to record with my buddies. So, you know, it was fun," Aldean says. "I'm hoping at some point we get a chance to perform together on a show or something, down the line. The song is just a fun, uptempo thing. I think people will dig it."
While Aldean hopes he'll have a chance to sing it live one day, the song's future is in the hands of Florida Georgia Line. "I don't know if it's gonna be a single or what their plan for it is, but I hope it is, because I think it's pretty cool," Aldean adds.
Can't Say I Ain't Country is due out on Feb. 15.
Learn Jason Aldean + More Country Stars' Real Names
How Well Do You REALLY Know Jason Aldean?