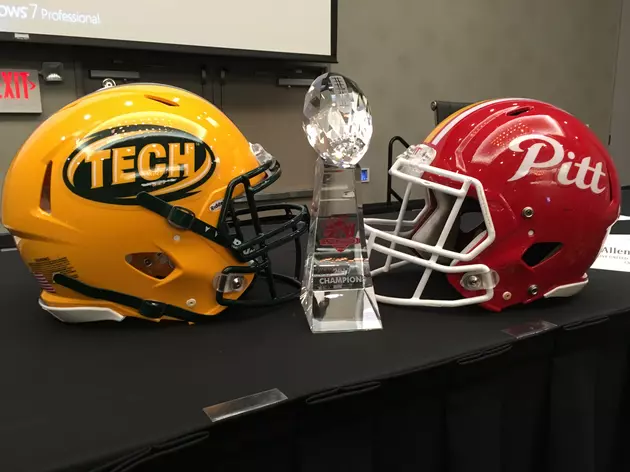 Live United Bowl Teams Have Been Announced
John Williams
The 5th Annual Agent Barry Live United Bowl will feature the Arkansas Tech Wonder Boys against the Pittsburg State Gorillas.
Arkansas Tech is located in Russellville, Arkansas, and Pittsburg State in Southeast Kansas. The Wonder Boys are 8-3 on the season, and the Gorillas come in at 7-4.
The Division II College Bowl game will be played at newly renovated Razorback Stadium in Texarkana on Saturday December 2 with kickoff slated for noon.
All proceeds beyond expenses will go to the United Way of Greater Texarkana. Tickets are just $10 for adults and $4 for students and children. Tickets can be purchased at any Mil-Way Federal Credit Union location, Texarkana Chamber of Commerce, and the United Way Office in Texarkana, or online.
Players from the two teams will be in town the day before to go out in the community and meet with some of the area citizens, and agencies that the local United Way benefits.
There will be a banquet that Friday night at the Texarkana Texas Convention Center, followed by a Collegiate Community Pep Rally outside the center. There will also be a concert to benefit United Way following the rally, featuring the Robert St. John Band.
Former Arkansas High and Denver Bronco star Rod Smith will be the honorary captain at the game and will speak at the team banquet and sign copies of his first book.
A 5k run with start activities off on Saturday morning. The gates for tailgating will open early that morning, with the gates for seating in the stadium opening at 10 AM.
There will be drawings for cash giveaways up to $5,000 for lucky fans who are present for the game.
At half both University's bands will perform as will the Robert St. John Band.
For more information on bowl activities, to volunteer, or purchase tickets go the Agent Barry Live United Bowl website.