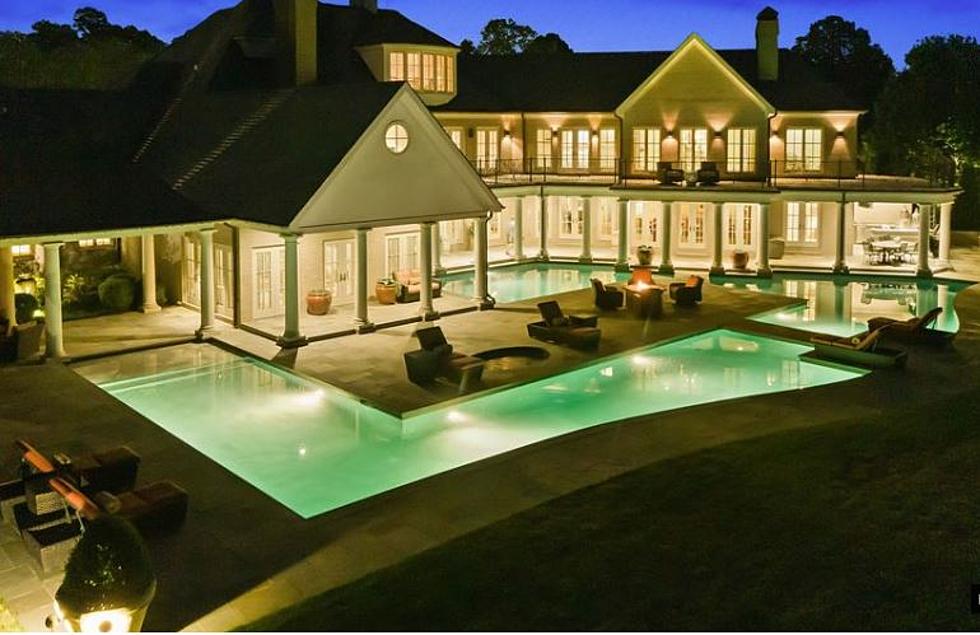 Stunning Arkansas House Features Wrap Around Pool & Movie Theater
Susan Desselle, Capital Sotheby's International Realty via Realtor.com
Okay, I think I might have found the most amazing house in the state of Arkansas. It's gorgeous of course but it's so unique too. For starters, just look at that pool.  This mansion, located in Little Rock, sits in between a golf course and a lake in the Chenal community. 
The front of the house is stunning especially at night with the beautiful lighting.
This house is located on Fronting Founders Course at The Chenal Country Club on the 17th/18th holes, The pool is described as an 80k+gallon, 200 linear ft descending pool.  The 5 bedroom and 5 1/2 baths house is a whopping 11,642 Square Feet! In May it was listed at 2.9 million dollars.
 Talk about a lovely foyer and sitting area.
Ah, but that pool! Look at how It wraps around the back of the house and right up to the house! I've heard of swim-up bars but a swim-up house?
This type of setup reminds me of a resort in the Caribbean.
When you get a little tired of swimming you can always relax at the outdoor living space.
This house also has a movie theater! Talk about a fun house for entertaining guests.
Of course, after a swim but before movie time, you'll need to run upstairs to shower in the master bath then step inside your walk-in closet to find the perfect outfit.
Yep, totally the closet/dressing room of my dreams!
I'm not sure if this is a wine cellar or a wine room but I want one!
A beautiful and functional kitchen. I can't help but think food must taste better coming from this kitchen.
Check out this amazing staircase. It's described as a free-standing 3-story elliptical staircase.
Wow, a view looking down the staircase. "Hello Down There! Can Anyone Hear Me?"
Check out this view of the property.
I am in Awe. Are you?
CHECK THIS OUT: This Texas Home Boasts Its Own Beach And Zipline
LOOK: See inside a modern day castle complete with drawbridge