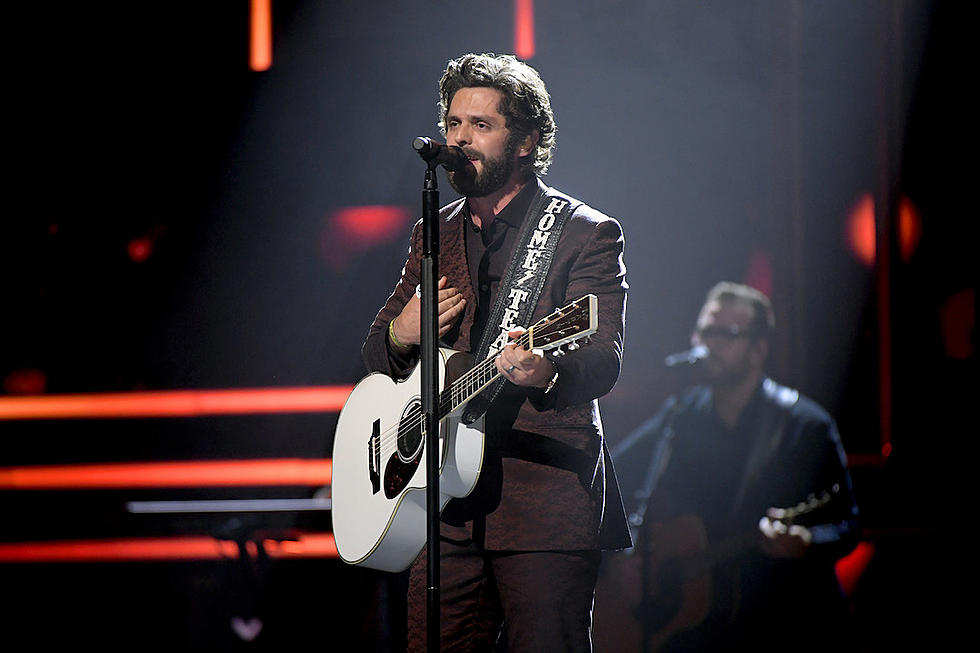 What's Thomas Rhett's Secret to Success? Being Himself, the Singer Says
Jason Kempin, Getty Images
Thomas Rhett was always a talented songwriter, but his career skyrocketed around the time that he started releasing deeply personal songs that spoke directly to his own life, such as "Die a Happy Man." That's no coincidence, as Rhett pointed out to The Boot and other outlets during a recent press event.
In fact, he attributes his success to his ability to speak openly about the things that are important to him. That skill that hasn't always necessarily come easily. "Especially as an artist, it's tough in any genre to be vulnerable and to write songs about your life," Rhett admits. "When you put 'em out, you go, 'Does anybody care about that?'"
The resounding success of "Die a Happy Man," which tells the story of Rhett's relationship with his wife Lauren, gave him the answer. Since then, songs including "Life Changes," "Look What God Gave Her" and "Dream You Never Had" have continued to prove that Rhett's fans do care about his story, because it relates to their own.
"And I think what I found out is, the more personal songs I write ... you're really talking to a lot of the population," he continues. "A lot of the time as a dad, or even when I look at Lauren and we're sitting there with a newborn and going, 'Does anybody know what we're experiencing right now?' Well, there's a million people that do. There's a billion people that do."
Distilling those common experiences into song form may be easier said than done, but Rhett says that the payoff is huge. "That is Songwriting 101: to be unabashedly yourself, and do things different, not because you're trying to be different, but because it's actually who you are. I think that doesn't go unnoticed," he reflects.
That commitment to authenticity has taken Rhett to the highest echelons of country music, from awards show mentions to high-power tours and cross-genre collaborations. "Every decision we made, every tour I said yes to, every tour I said no to, every song I did cut, every song I didn't cut -- it was all part of some crazy plan," he says.
"I don't know where it's gonna lead, but I'm really just trying to live in 2019, in the present, and feel like this is incredible," Rhett adds. "A lot of it is just attributed to being yourself. Being very unashamed to be who you are."
10 Too-Cute-for-Words Photos of Thomas Rhett + Lauren Akins