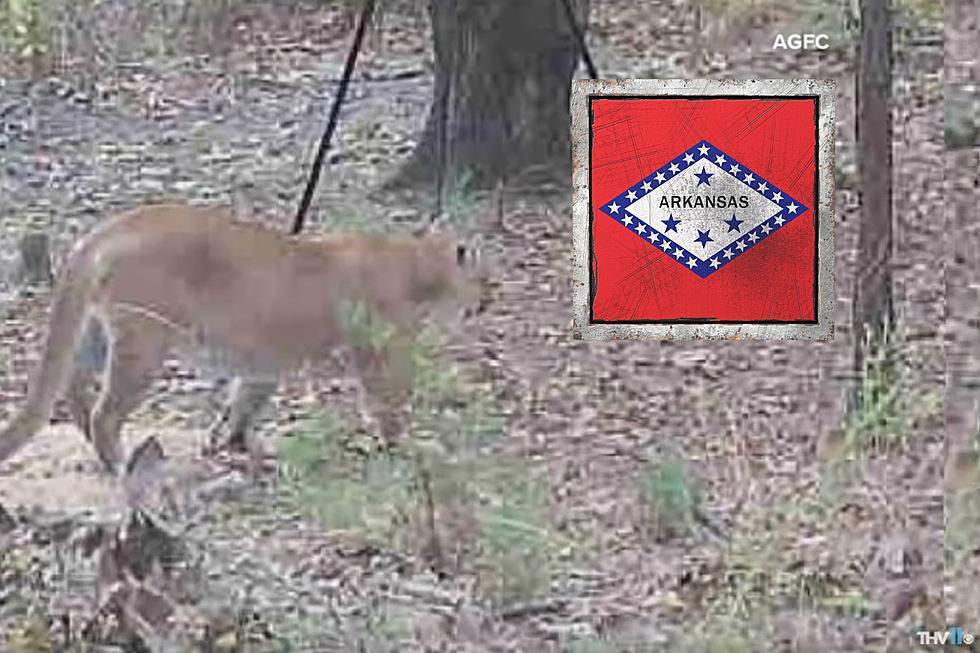 Beware Deer Hunters! Mountain Lion Spotted in Arkansas
Canva, AGFC/THV11
Modern gun deer season begins this weekend in Arkansas but hunters beware there is a mountain lion loose in a rural region of the state.
According to the Arkansas Game and Fish Commission a mountain lion was spotted near the town of Amity in Clark County, between Texarkana and Hot Springs in Southwest Arkansas.
The animal was caught on a game camera wandering through a heavily wooded area by a hunter who was hunting in the area. The AGFC reports that since 2010, 23 mountain lion sightings have been reported. There have been 23 confirmed mountain lion sightings in Arkansas since 2010.
These animals are also known as pumas, panthers, or cougars and are very reclusive avoiding humans as much as possible. At one time mountain lions were seen throughout Arkansas until about 1920 in fact, a hunter killed a rather large mountain lion in Bradley County.
Keep in mind, that mountain lions are not game animals, they are illegal to kill because they do not have a typical hunting season. The only exception to shooting and killing one is if you are being threatened or attacked by a mountain lion. That would fall under self-defense.
While Arkansas is not a breeding ground for these animals they can travel miles from other states in North America so it's not uncommon that these animals could make a home in another state.
The Arkansas Game and Fish Commission reminds folks if they spot one stay away from it and report it to an official AGFC office.
Here's more on the sighting from THV11.
States with the most registered hunters
Stacker
analyzed data from the U.S. Fish and Wildlife Service to determine which states have the most registered hunters. Read on to see how your state ranks on Stacker's list.
Gallery Credit: Meagan Drillinger