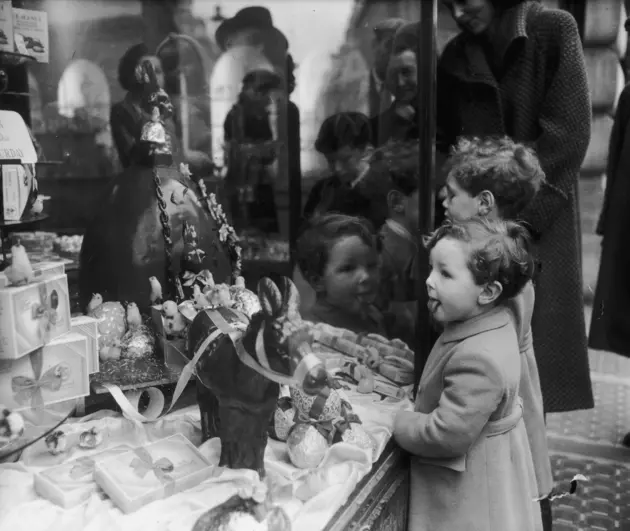 #EasterGoals – Win the Children Over with Bunny Chow
Monty Fresco/Topical Press Agency, Getty Images
Easter may sound like just a casual potluck for the family, but I treat it as war. The objective is to win the favor of the children.
Holidays in my family are always big. My extended family gets together for everything, including Easter. With seven of the original cousins and their spouses, their kids, as well as the aunts and uncles and grandma, it turns into an affair of about 30 people. And I love every single minute of it.
All of my cousins kids are under the age of 10 which makes it even more fun.
My goal is to win over each of those little ones with the dish I bring. Since it's hit or miss with savory dishes, I try to swing for the fences on dessert. This year, I think I'll get some serious points with Bunny Chow. I mean, who wouldn't love something made with cereal,  chocolate, marshmallows, and sprinkles.
It's basically a similar concept as Muddy Buddies/PuppyChow/Monkey Munch. This stuff goes by plenty of different names. It's Chex cereal that is tossed in a melted mixture of chocolate, peanut butter and butter. Those little chocolate lovelies are then tossed in powdered sugar (mostly to keep them from sticking together).
So how do you make that concoction into Bunny Chow? Well, using the same mentality, you melt white chocolate on its own and stir the Chex cereal in it. While stirring the cereal and chocolate, throw in some Easter sprinkles (something in the pastel color wheel). Then you toss it in a mix of powdered sugar and yellow cake mix. Finish it with some colorful marshmallows and maybe even some Robin Eggs.
Boom! Bunny Chow.
Source: PopSugar