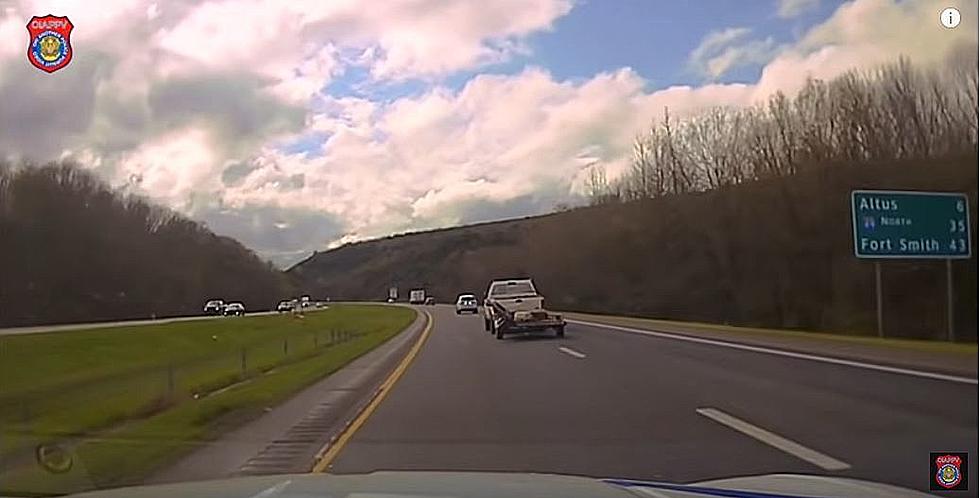 High-Speed Pursuit Lands Naked Arkansas Woman in Jail
YouTube
Arkansas is known as the natural state but in 2021, that word meant a whole lot more when Arkansas State troopers got involved in a high-speed pursuit of a naked woman. Talk about being all-natural in the buff!
The woman was weaving in and out of traffic in a stolen white pickup truck with a trailer hitched to the back. It happened in Johnson County in the Spring of 2021, according to a report from the Arkansas State Police, a Lamar police officer was also in pursuit and was almost hit head-on in the incident.
A trooper tried pulling over the woman near Clarksville but she refused and that's when the 12-mile chase began that involved multiple law enforcement agencies. The woman was seen trying to jar loose items out of the trailer onto the road while evading police, she eventually ran over some spikes in the road but she kept fleeing until one of the tires blew out.
That's when she pulled the truck over and got out what appeared to be a jacket before taking it off with nothing else on and proceeded to run. The trooper was able to tackle her and she was arrested with no other incident, according to KNWA.
After searching the vehicle a loaded gun was found in the front seat. The woman had a court date set for May 13, 2021. Hopefully, the woman showed up in court with clothes on.
Don't worry the naked woman is blurred in the video. Note: (NSFW)