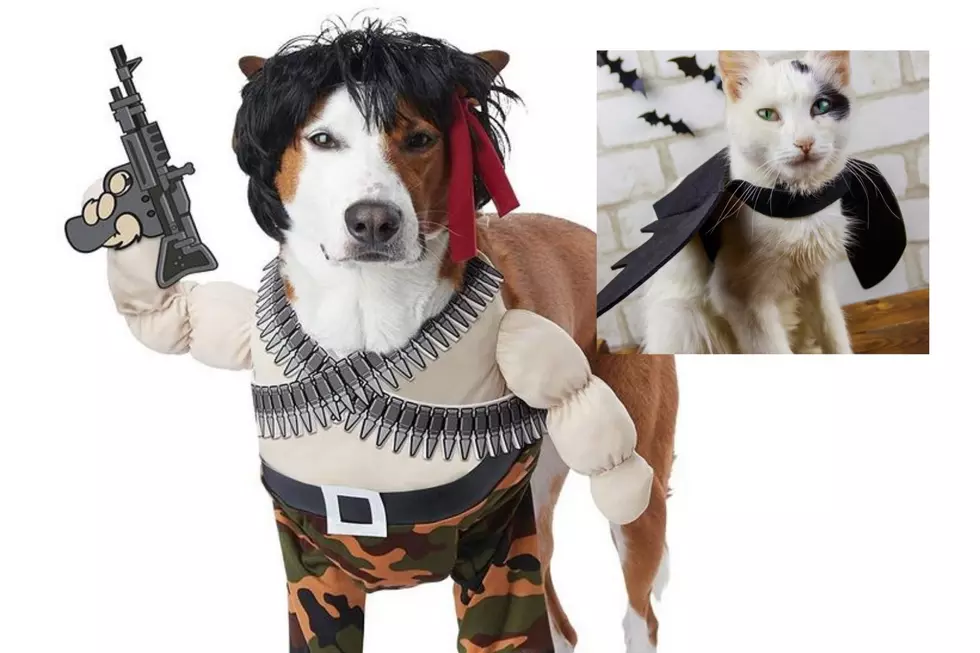 Hilarious Pet Costumes That Will Make Texarkana Howl on Halloween
Amazon, Canva
Halloween is just around the corner in a recent survey taken, more people are dressing up their pets for Halloween including folks right here in Texarkana.
Whether you plan on taking your furry friend trick or treating with you or you just want to get into the festive spirit of the Halloween season, Amazon has a ton of costumes you can choose from.
Let's take a look at some of the most hilarious costumes for pets.
Cuddly Teddy Dog
This custom-fit costume will make your dog look like a walking cuddly teddy bear.
 Chucky Dog
The overalls may say Good Dog but this is a very Bad Dog you don't want to mess with.
Michael Myers Pooch
Another frightening knife-wielding dog you do not want to see on Halloween. How about some kibble and bits?
 Who ya Gonna Call
Why of course, the Ghostbuster Dogs to the rescue backpack and all? Bet he can't wait to slime a tree.
Doctor Cat
If you are looking for your frisky feline look no further than the Cat Doctor costume. This is just what the doctor ordered. Eat two fish and call me in the morning!
Panda Dog
This hilarious costume has been featured on the TV show Shark Tank. Perfect if you have a black and white dog.
Ride em' Cowboy
This easy slip-on costume will certainly get a few laughs as he gives the cowboy the ride of his life. Is the grimace on his face what I think it is? Ouch!!!
BarrrrK Pirate Dog
This scallywag makes Jack Sparrow from Pirates of the Caribbean look tame.
Guitar Playing Dog
Who let the dogs out? This rockin' guitar costume says it all, " I ain't nothing but a bulldog!"
 Spider Dog
This costume looks menacing if you have a black dog. Spidey comes home.
Sheriff Kitty
This is one cool cat you do not want to run across. Can you say, The Good, The Bad, The Cuddly? I'm the new sheriff in town and I aim to scratch your eyes out!
Lion Dog
If you liked the Lion King, dress your dog up to look like Simba with a slip-over mane and tail extension. With this look, he will surely be King of the Pets.
Bat Dog
If Batman had a dog, this would most likely be his sidekick, not Robin.
Pumpkin Dog
This is the #1 selling Amazon costume this Halloween. This very soft non-toxic costume is safe and fun for any size pooch. Just call her a Pumpkin Spice Girl.
 UPS Delivery Dog
My favorite costume of the bunch features a UPS uniform, hat, and a box of doggy treats, I'm hoping. UPS - United Pooch Service.
All these costumes can be found on Amazon. To see more on the costumes above just click on the word Amazon underneath each picture you see or go here for pet costumes.
Remember, when buying a costume for your pet make sure it's something they can tolerate, that's safe, and make sure they are able to see. These costumes will certainly make you and your neighbors laugh but just make sure, if your dog gets a treat it's something they can eat, candy is not recommended especially chocolate since it is toxic to them.
Most of all, have fun and Happy Howl-O-ween!
KEEP LOOKING: See What 50 of America's Most 'Pupular' Dog Breeds Look Like as Puppies