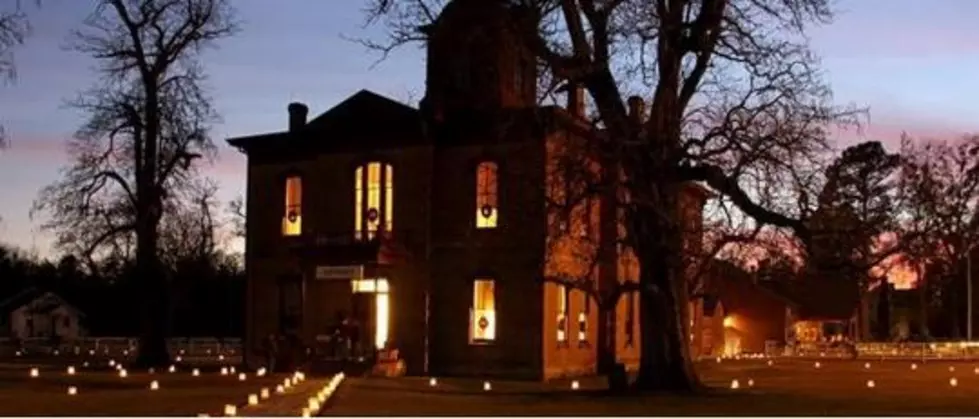 2020 Christmas and Candlelight at Washington State Park Arkansas
Old Washington State Park, Sheila Little
The holiday season will inevitably look different this year, but the cherished tradition of Christmas and Candlelight returns to Historic Washington State Park in December.
Join Historic Washington State Park for the 34th Annual Christmas and Candlelight which will be held December 5 and 12, from 5PM to 8PM.  I've said it before, Old Washington is like taking a step back in time in a Norman Rockwell painting. Adorned with 19th-century decorations and thousands of luminaries you and your family will definitely get into the Christmas spirit in this historic town. As you stroll down candlelit streets the mood will be set with the sounds of holiday music as you walk past tastefully decorated homes. My personal favorites are the courthouse, schoolhouse, post office, and William's Tavern Restaurant.
The restaurant will be open from 11AM to 8PM during Christmas and Candlelight and will be serving up a set limited menu. To accommodate more people, the restaurant will also be serving at the WPA Gym from 5PM to 8PM.  Cash only accepted at the Gym.
Due to Arkansas Health Department restrictions, no in-house tours will be available. All can enjoy music and 19th century Christmas scenes throughout the park at no charge. The visitor center in 1874 Courthouse and the Gift Shop will be open from 8PM to 8PM
Face masks will be required to enter the visitor center and restaurant.
Begin your own Christmas tradition by joining Arkansas's Premier Historic State Park only eight miles off I-30 from Hope Arkansas.  For more information please call  870-983-2684.
CHECK THEM OUT: 100 years of Christmas toys, gifts and fads