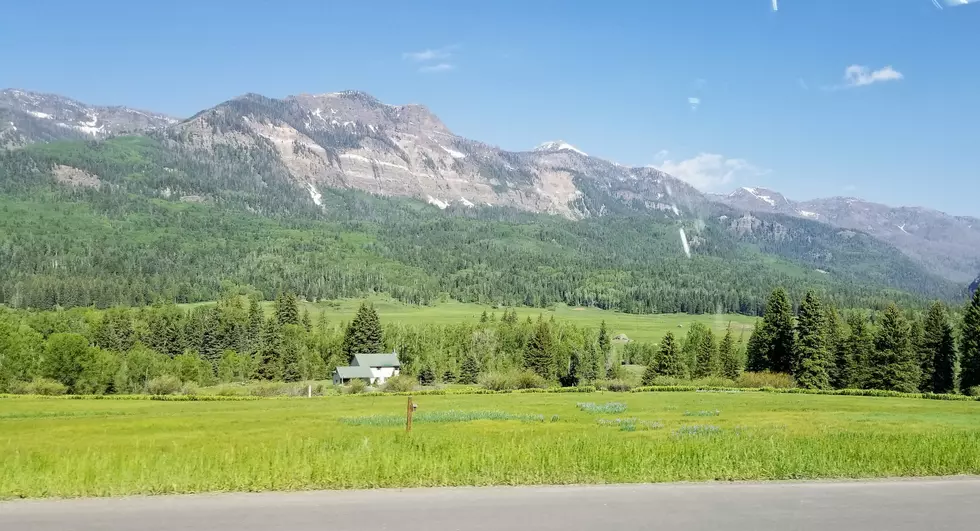 Crew 3's 'Epic Western Expedition' – Yes It Was: Day 7
Crew 3 Day 7 - Wolf Creek Pass trip 1 - JimWeaver
Up with the sun, easy breakfast and off we go into Day 7 for Crew 3 and the most "Epic Western Adventure." Today we're making our way across middle Colorado toward the Royal Gorge, and after the day before at Mesa Verde, it's hard to imagine that we could be more impressed by the beauty this state has to offer, but we were.
Today also came with a huge surprise for me, you would think with the six months of planning we did I would have seen this coming, but I missed it entirely. It was a most happy accident.
Something happened on the way to the Gorge, we were gently climbing the Rockies, it was such a gradual climb we hardly noticed until bammo, we're at the snow line! Are you kidding me! There was snow in the treeline, right outside our windows. That waterfall above, not a busted waterline... it's snowmelt from a mountain! But wait, the excitement is building yes, but I really didn't know where we were until we were on top of it.
Wolf Creek Pass y'all! As you can see by the sign below we are at 10,857 feet elevation! We are on the Great Divide, the Continental Divide. We are about to play in the snow, in the Rocky Mountains of Colorado literally on the first day of summer.
Is this great or what! And yes, the CW McCall song was in my head the whole time thank you.
Crew 3 "frolicked" in the snow for about 20 minutes or so and we had to get back on the road to make our destination in a somewhat timely manner. Here we come Royal Gorge!
Coming down from Wolf Creek Pass was just as gorgeous as going up.
Near the royal Gorge we stopped at a park area to fix our lunch and take care of some much needed potty business. While the food was being prepped I lucked into a terrific shot of this beautiful blue bird trying to get food to his babies. They were in a hole above our heads in the picnic table cover. Lucky shot huh? We moved out of his way so he could reach the baby birds.
The Royal Gorge bridge is 1260 feet across and 1053 above the Arkansas River which makes it the highest suspension bridge in the US.
Unfortunately, this was about as close as we got to the Aerial Gondola, just before it was our turn to board the ride was shut down due to wind conditions clocking over 30 mph. We were bummed, but we went over and walked across the bridge and walked back, because we're Scouts, we can do that.
On the bridge they have affixed state flags for everybody who's proud of where they come from to snap a selfie with your flag and a little Gorge view behind you. Pretty cool!
The view from the other side is below...
Oh, by the way, there's quite a bit of bounce on the bridge, especially in high winds. So, that was fun!
Coming into Colorado Springs from the south on Highway 115 and there it is on the left, Cheyenne Mountain. If you're not familiar with it, that's where NORAD is located, the North American Aerospace Defense Command, not only do they keep our country safe from the bad guys, but they also help keep the skies clear for Santa every year. We wanted to camp inside it but apparently, that's a NO. Oh well, thank you for keeping us safe!
In Colorado Springs we went to the Garden of the Gods (below) more of those strange rock formations that seem to be sticking up out of nowhere.
Crew 3,  being helpful as always. Don't worry, they weren't really pushing on the teetering giant boulder.
After we finished saving the world from the giant boulder, it was onward to a little town called Trinidad, Colorado for the night. One more day of sightseeing back in New Mexico before the long drive home across Texas. Day 8, we're going to Philmont Scout Ranch.