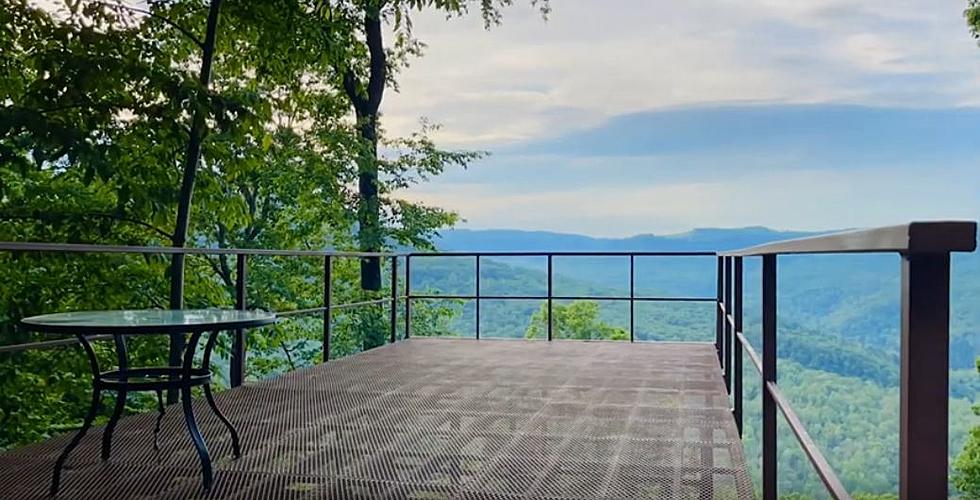 Dazzling Views From This Arkansas Cabin Getaway in the Bluffs
YouTube
Did you know that Jasper, Arkansas is known as the Elk Capital of Arkansas? More than four-hundred-fifty elk roam the Buffalo River valley around this beautiful scenic town in the Ozark mountains. But what's even better, staying at the Boulder Bluff Cabins with breathtaking views of the Ozark mountains from an observation deck extended over the hillside bluffs.
The Boulder Bluff Cabins have multiple cabins that will make this a special weekend getaway this fall. The all-wooden cabins are fully furnished with all the amenities you need and tastefully decorated to give that rustic feel throughout. I really liked the old record player with fully stocked albums available to listen to music.
Notice the pink winding staircase that leads to the bedroom loft.
Here's a better view from the bathroom.
Kelly's Cabin
Kelly's cabin is one of my favorites with a living area, kitchen, bathroom, and 2 bedrooms with a unique colorful spiral staircase that takes you to the loft. Stay warm and cozy on those cool nights with a wood-burning fireplace too in this once converted hunting cabin.
Enjoy a cup of coffee from the bar inside the kitchen with a stunning view of the bluffs and surrounding forests from the large picturesque windows.
You will be amazed by all the different species of wildlife and birds that inhabit this area such as turkeys and white-tailed deer. The cabin is almost like a museum itself with lots of unusual items from arrowheads, stones, and, art deco with a definitive history behind it.
Watch a mesmerizing sunset over the Ozark mountains off the deck and enjoy some S'mores from the fire pit. The highlight of this cabin though is the observation deck that is suspended 20 feet above Pete's Bluff. Perfect for capturing a beautiful sunrise or sunset.
When you step out on this deck be prepared to hear all sorts of wildlife sounds including wolves and coyotes howling throughout the mountains. And, viewing the spectacular colors of fall from the wooded forests and valley is absolutely mind-blowing, to say the least.
With historic buildings, soaring bluffs, hiking trails, waterfalls, and canoeing just minutes away in the Buffalo River region, this is an unforgettable outdoor adventure you will never forget.
Start your visit now at their website or Facebook page.
LOOK: Stunning vintage photos capture the beauty of America's national parks
Today these parks are located throughout the country in 25 states and the U.S. Virgin Islands. The land encompassing them was either purchased or donated, though much of it had been inhabited by native people for thousands of years before the founding of the United States. These areas are protected and revered as educational resources about the natural world, and as spaces for exploration.
Keep scrolling for 50 vintage photos that show the beauty of America's national parks.