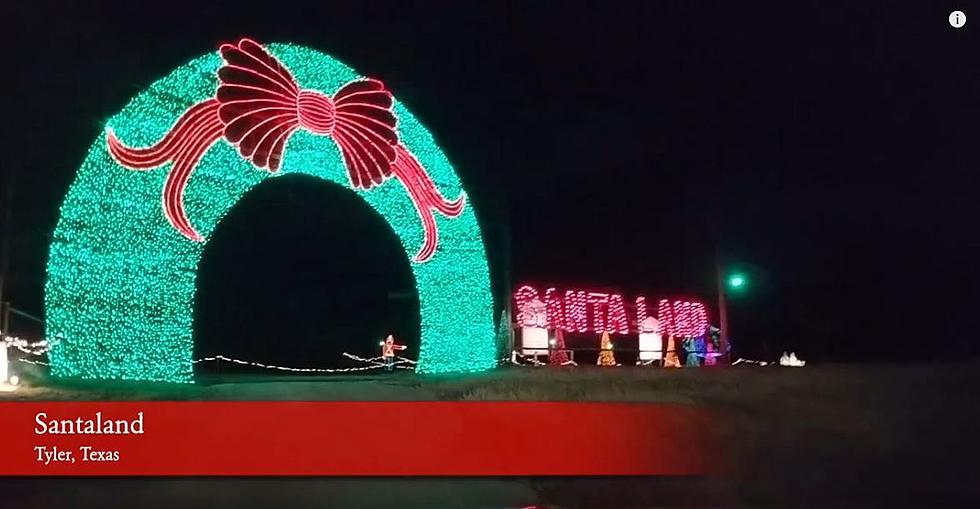 Santa Land Texas the Original Drive-Thru Park Now Open
YouTube
Once upon a time in a land not too far away in the piney woods of East Texas comes a dazzling display of lights over 3 million all in celebration of Christmas. Santa Land Texas the original Texas Drive-thru Park is now open for its 26th year near Tyler.
Generations of families have made it a tradition to visit Santa Land Texas every year, one of the premier Christmas Parks in Texas. This 24-acre park is totally transformed into a wonderland of lights with a variety of dazzling displays, mesmerizing themed areas, colorful lights that seem to dance with lively holiday music heard throughout the park grounds.
At Santa Land Texas there are magical hand-crafted, animated, and mechanical displays you will see including the spectacular "Tunnel of Lights,"  25,000 flashing dancing lights, as you exit the 250-foot tunnel.
The views are stunning as you drive through Christmas Lane, see the Elfland Carousel, Merry Mermaid and Friends, Great Fountain of Yule, and more unique displays.
There's even a special area dedicated to the true meaning of Christmas with a nativity scene and other Christian areas of lighted displays and that's not all, a special salute to our troops.
There's even a Gift and Snack Shop for some tasty treats and unique gift ideas that includes a visit with Santa Claus. What makes Santa Land Texas so unique is that is one of only a few parks open on the actual holidays.
Santa Land Texas is located off Interstate 20 West exit 557 in Lindale, Texas, just north of Tyler, approximately 115 miles from Texarkana.
Please call 903- 882-1518 for more information visit their website or Facebook page. A little word of advice the best days for viewing the lights is normally the first part of the week, otherwise expect long lines.
Park Hours: Open Ran or Shine
November- 6-10 PM Nightly includes Thanksgiving
December - Sunday-Thursday 6-10 PM, Friday and Saturday 6-10:30 PM includes Christmas Day
January - 6 PM -10 PM every night
2021 Admission

$30 per vehicle up to 10 people
$60 per commercial vehicle up to 11-20 people (over 20 people $5 per person)
Santa Land Trailer Rides
Santa Land Trailer rides will also be available beginning on Thanksgiving night, $15 per person, 2 and under free.
Here's a video sneak preview of Santa Land, Texas.
LOOK: See what Christmas was like the year you were born