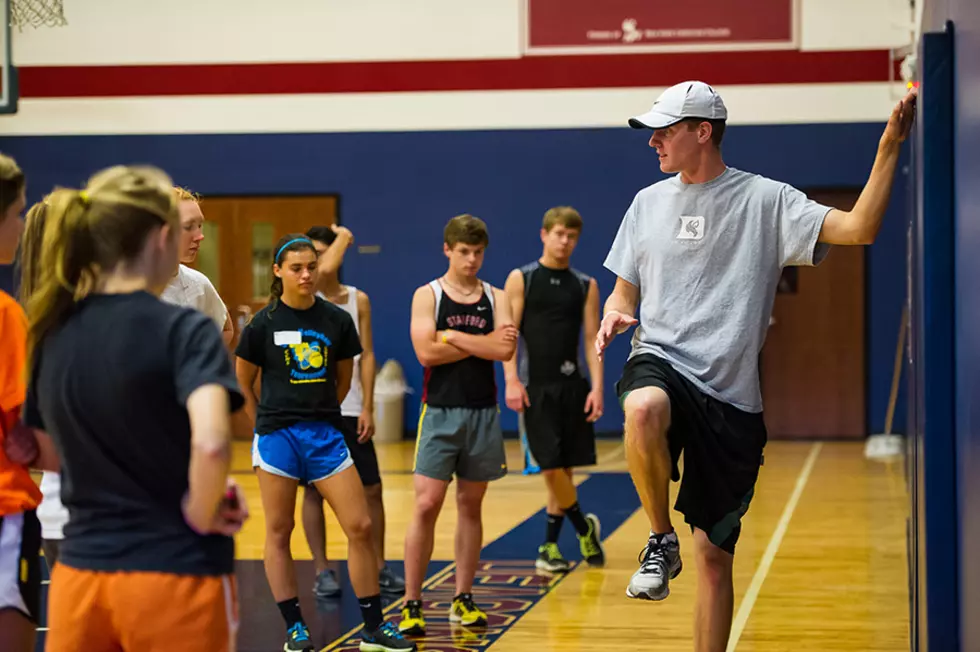 SAU Online Graduate Bringing Physical Therapy Skills to Rural Oregon
Brian Schaudt coaches students at Lane Community College in Eugene, Oregon. - SAU
A recent graduate of the online master's degree in Kinesiology-Coaching program at Southern Arkansas University aims to apply his knowledge in physical therapy to an underserved area – rural health care.
Brian Schaudt, a December 2018 graduate of SAU's online program, has been accepted into George Fox University's Doctor of Physical Therapy program, according to the Press Release.
George Fox is a private Christian university in Newberg, Oregon. Its doctoral program integrates clinical research into the practice of physical therapy. Schaudt is projected to graduate in spring 2022. He credits SAU with preparing him for the next step in his education.
Steve Dingman, program director at SAU, praised Schaudt as an exceptional member of the online team. "Brian always produced incredible work and went the extra mile," Dingman said. "One of the benefits of our program is getting to know students all over the United States. Brian lived and coached in Oregon the entire time he was enrolled at SAU."
"Mr. Dingman and the rest of the faculty in Kinesiology-Coaching helped me reach this point in my professional journey," Schaudt enthused.
Schaudt will focus on primary health care in rural eastern Oregon. "As in Arkansas, there is a health care provider shortage in rural areas and I hope to do my part."
"Working with patients, I will need many of the same skills a good coach has," Schaudt said. "I will need to communicate, motivate and educate well. SAU helped me develop these skills and understand the fundamentals of the scientific process."
Schaudt has served as head track and field coach and adjunct faculty at Lane Community College in Eugene, Oregon. He was named Men's Coach of the Year (track and field) in 2018.
His passion for coaching comes from his mother, Carol Menken Schaudt, who played women's basketball at Oregon State University and was a gold medalist in the 1984 Olympic Games. Schaudt's sister played volleyball at Oregon State and plays professionally in Copenhagen, Denmark.
"I appreciate the entire faculty in the program at SAU for their passion, flexibility and expertise in teaching future professionals," Schaudt said.