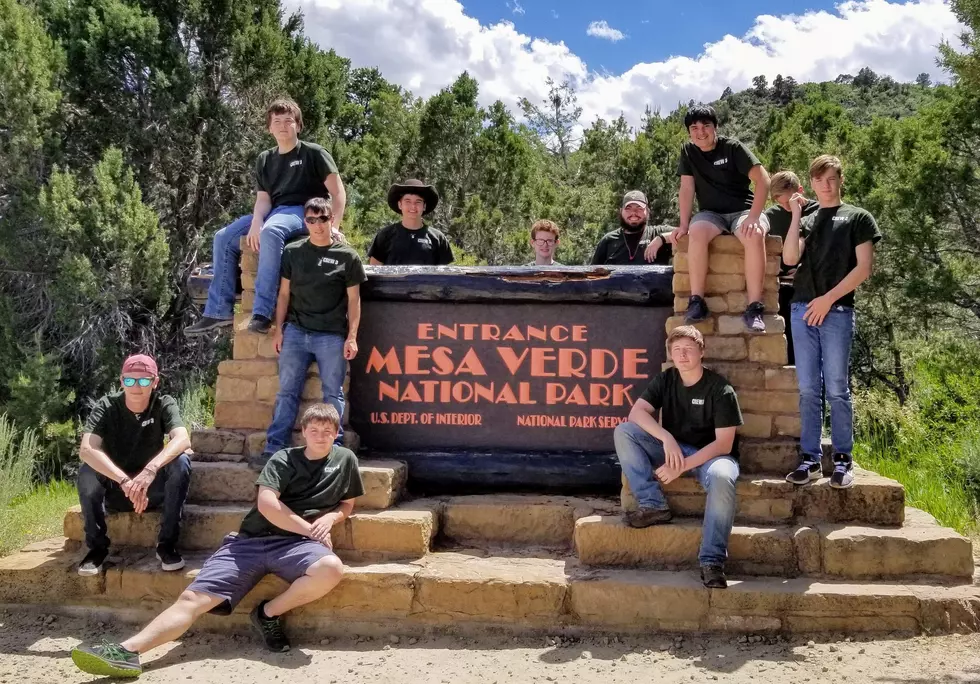 Crew 3's 'Epic Western Expedition' – Yes It Was: Day 6
Crew 3 Day 6 - Mesa Verde trip 9 - JimWeaver
Day 6 for Crew 3 and the most "Epic Western Adventure" included, you guessed it, a lot more driving, as we bid ado to Flagstaff, Arizona and headed NorthEast toward Colorado, with three destinations today, Four Corners, Mesa Verde and Durango.
We set off across the desert which the first word that comes to mind to describe it is "immense," followed closely by beautiful, hot, windy, dry, etc.
Check out the crazy rock formations coming off that mesa above.
The first destination of the day was Four Corners, the spot where four states come together at one point, Arizona, Utah, Colorado and New Mexico. Interesting side note, this place is on a Reservation, so the place there to take your picture and do some shopping is all Native American owned. Didn't know that did ya?
There it is above, the spot where the four states come together... and someone's foot.
The photo area is surrounded by smallish booths rented by Native American merchants and artisans. Below we are standing in line waiting our turn at the photo op.
Here we are, me and boy Tyler, trying our best to get feet in all states, it kinda worked... and yes, I'm due in September!
Once again, off we go across the desert, next stop Mesa Verde.
You can't help but wonder what it must have been like to cross this vast untamed wilderness 150 years ago with your family in a canvas-covered wagon. Unbelievable.
We finally arrived at Mesa Verde National Park which is just a gorgeous area in Colorado. We're leaving the desert behind, climbing into the mountains now and we can see the snow-capped Rockies from here.
I don't know if "pueblos" is the right word to describe these dwellings built into the overhangs of these mountains, but we do know they're about 800 years old and they are amazing.
To see these up close and get just an inkling of an idea how these people lived and thrived for several generations is worth every penny. Do it.
That painting above, inside one of the dwellings, is 800 years old, how cool is that!
Mesa Verde was an incredible way to cap off Day 6, when we finished there we drove on into Durango, Colorado for the night. Durango is a beautiful town, by the way, but it was getting dark when we got there so I didn't get any pics.
Day 7 will include the Royal Gorge and a huge surprise for me and Crew 3. Some of the leaders knew it was coming up, I had no clue! Nothing new there I guess.