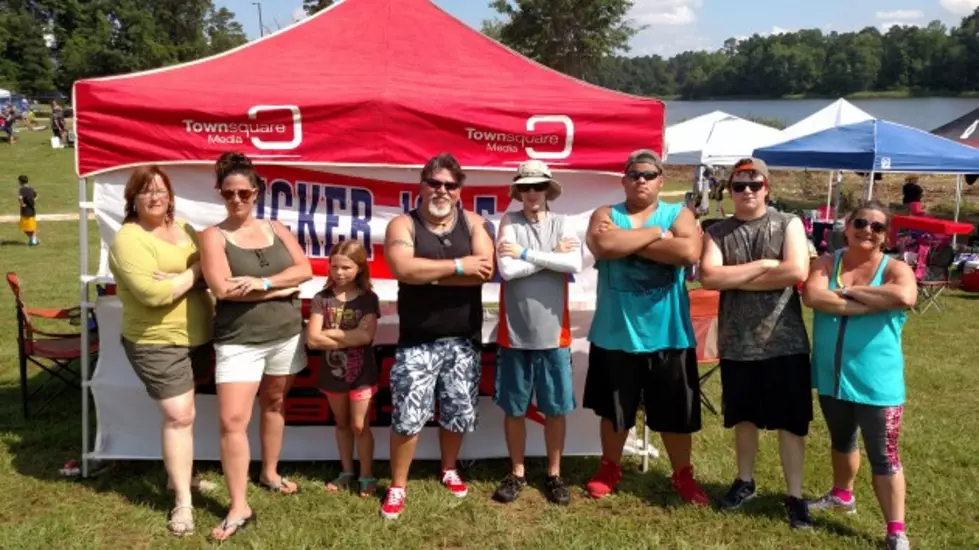 Fun at the 2016 Dragon Boat Festival in Texarkana
Townsquare Media
A great crowd turned out to see the first-ever Dragon Boat Boat Races at Bringle Lake Park to benefit HandsOn Texarkana.
The weather couldn't have been more perfect as participants gathered to face off against other teams entered into this inaugural race. I was down on the dock where they were loading the boats and saw families and friends who were there in support of their favorite team. It was great to see all the different businesses in our community form a team that consisted of co-workers, family and friends.
David Carter is the Board President of HandsOn Texarkana.
"Typically the dragon boats is something you see in a larger city but we thought it would be a great idea to bring one to Texarkana. We were told to expect around five boats for this first event but we wound up having 15 instead," he said.
Each team that participated was asked to come up with a unique name for their team.
Boggy Creek Monsters
Texarkana Boot Leggers
Team Jackass
Barbell Butterflies
CHRISTUS St. Michael Holy Rowers
Brains & Brawn
Team JCM
The Compound
Wadley Water Warriors
Cajun/Texas Invasion
Crossfit Texarkana
Domtar Dominators
Bowie County CSCD
Team Triple Threat
I was able to race in the first heat with Team Triple Threat (Team Townsquare Texarkana) and had a blast. Unfortunately we lost that race by one second. I blame our GM for not paddling at the end!
Dragon boat racing started in China more than 2,500 years ago and through the years it has developed into a sporting event that has gone worldwide and teaches participants about teamwork and morale. Each boat has approximately 20 paddlers and one team drummer who keeps the beat as paddlers row in unison as she or he motivates the team.
There were four divisions in which winners were chosen. MidSouth Bank and Legends Gym's team, Brains & Brawn took first in Division I. Team Jackass won Division II, Wadley Water Warriors won Division III, and Texarkana Bootleggers took Division IV.
In addition, there were individual recognition was handed out for "Most Spirited Team" to JCM Industries, and the only all woman team Barbell Butterflies being named the "Most Creative" at the races.
So the inaugural Dragon Boat Festival is in the record books and I'm most certain that next year it will be even bigger and better. Thanks to all who came out in support of this worthwhile cause for HandsOn Texarkana.