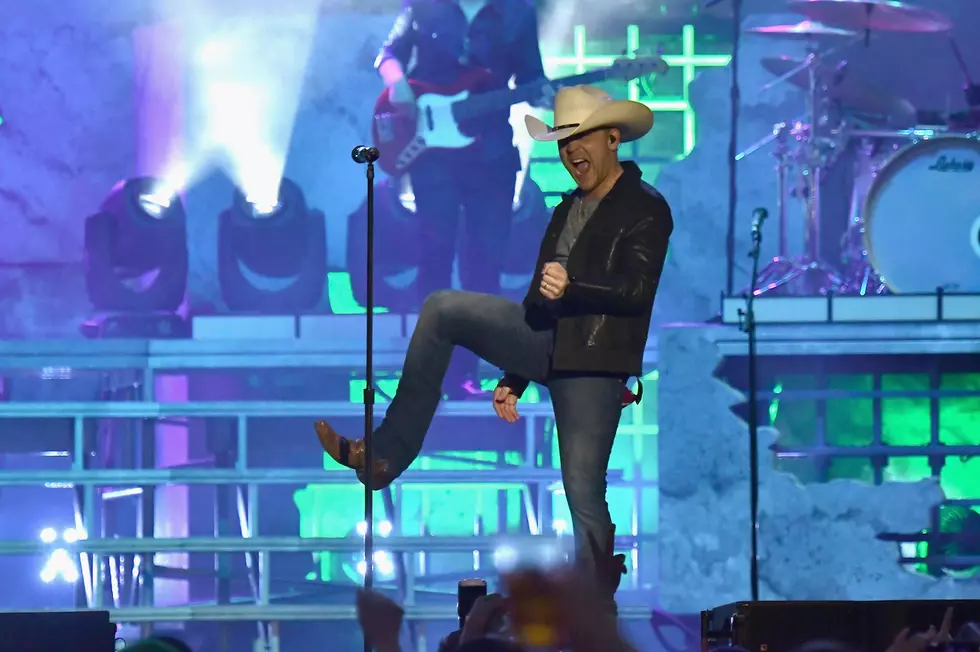 Watch Justin Moore's 'Kinda Don't Care', Alan Jackson's 'The Older I Get' + More New Country Music Videos
Gustavo Caballero, Getty Images
The first full week of November was a busy one thanks to the 2017 CMA Awards, but a few artists also found time to release new music videos. Read on to see the newest clips from Justin Moore, Alan Jackson and more.
Smithfield, "When You're Gone"
Smithfield's "When You're Gone" translates to some fun in front of the camera lens. Written by the duo's Jennifer Fiedler and Trey Smith, along with Brennin Hunt and Adam Jones, the song began as a title but, the duo tells The Boot, morphed into something totally different than the original idea. Instead of "gone" meaning "location," it refers to the drunk sort of "gone."
The "When You're Gone" music video features several couples of various ages -- and each one heads to the bar for a date and a few drinks. Smithfield act as if they're playing a gig at the bar (with a jazzy backing ensemble), and the clip follows each couple around. There's dart-throwing, pool, shots and lots of love. -- CV
Alan Jackson, "The Older I Get"
Jackson released a nostalgic video for his latest single, "The Older I Get." The sepia-toned look back at Jackson's career and life is a slideshow of old photos and past performances interspersed with still shots of venues where he's played and clips from the artist's other music videos over the years. -- LS
Justin Moore, "Kinda Don't Care"
Watching Moore's "Kinda Don't Care" music video will get you itching to see him live. It's a compilation of different moments on tour and in the spotlight.
"I am lucky enough that my wife and kids let me spend so much time on the road," says Moore in a press release. "Performing for my fans is what I love the most about this career and know they are the reason it's possible. So, I thought it would be really cool to showcase "Kinda Don't Care" and the tour in this way."
The "Kinda Don't Care" clip shows Moore in his element, soaking in applause and letting himself go in the music. It pairs well with the theme of the title track and album title. Moore says, "Naming the album Kinda Don't Care is not meant to be nonchalant or careless; it's meant to be a challenge to folks to live life a little more freely and be true to themselves." -- CV
Maggie Rose, "Pull You Through"
Maggie Rose hits sweet sentimentality square on the head with her music video for "Pull You Through," which captures a live performance of the bluesy, romantic tune in a studio setting with her band. Channeling a little Tammy Wynette crossed with 1950s be-bop feel-good, Rose's video creates a warm and promising hope for a love you can count on. -- LS
Chris Lane Feat. Tori Kelly, "Take Back Home Girl"
This music video, directed by Justin Clough and filmed in Los Angeles, Calif., features Chris Lane and pop singer Tori Kelly -- and they're doing the big girlfriend-meets-the-parents visit. Thankfully, this is a happy music video, not a tragedy.
Throughout the "Take Back Home Girl" clip, Lane and Kelly hang out with family, flip through childhood photo albums and even head to the high school's football field. But more important, the parents seem to approve.
"Shooting the music video took me back to some really happy memories of playing high school football," Lane says. "In the song, the second verse is about taking your girl or your man out to a high school football game and doing the kinds of things that you would when you go back to your hometown and have them meet your family." -- CV
Little Big Town, "When Someone Stops Loving You"
Little Big Town took home two trophies at the 2017 CMA Awards on Wednesday night (Nov. 8), for Vocal Group of the Year and Song of the Year. The band continues down Heartbreak Road in their video for "When Someone Stops Loving You," which could arguably be the musical answer to their award-winning "Better Man." As Jimi Westbrook sings the lead, he wanders with his bandmates through a fire-deadened landscape, contemplating how to move on after losing the love of a partner, who maybe went looking for a better man. -- LS