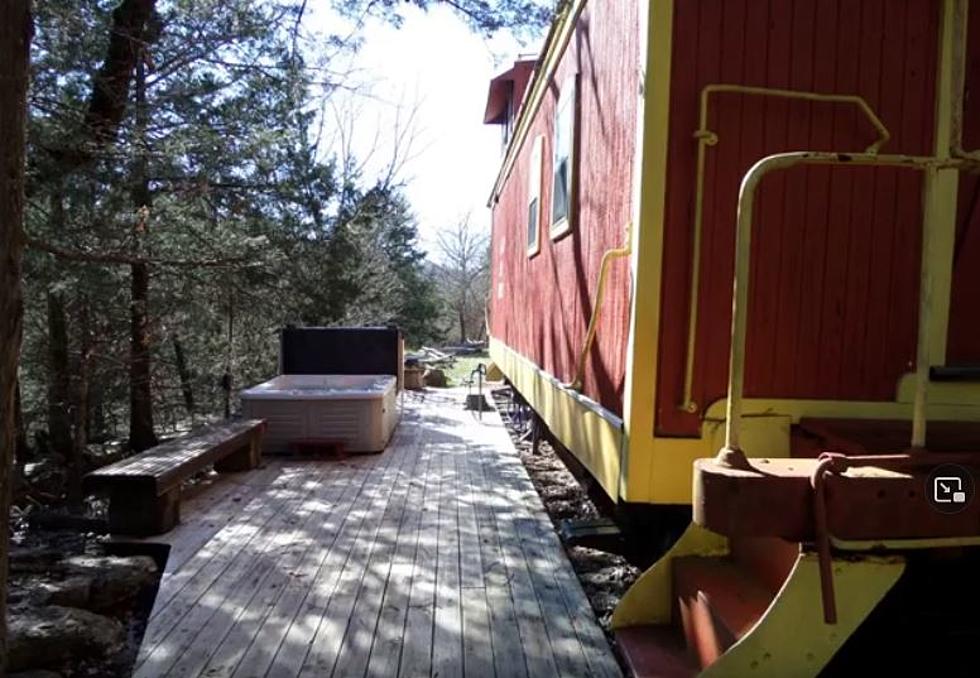 Stay in an Elegant Caboose in the Mountains of Arkansas
YouTube
Last week I told you about the world's largest steam locomotive 'Big Boy' coming back to Texarkana, this week I want to tell you about a getaway stay at the Livingston Junction Cabooses in Eureka Springs, Arkansas.
This unique vacation experience in Northwest Arkansas combines the love of trains with the beauty of the wooded forests of the Ozarks. Call it the love train if you want but just know when you stay in these coveted Depot cabins it's like taking a trip back in time no matter what season it is.  First of all, these cabooses are furnished with queen beds and kitchenettes, a large living room with a wood-burning fireplace, and a breakfast nook. With the exception of one unit, they include a private hot tub. Choo Choo baby!
Each caboose also has a large secluded outdoor deck with furniture plus a charcoal grill for cooking out.  And get this, some decks include a hammock. Livingston Junction can easily accommodate groups of up to 10 people. All these cabins have been fully restored, renovated, and tastefully decorated even the driveway is made to look like a railroad bed. This mountainside retreat is home to deer and other wildlife that make their home here and occasionally you may hear the whistle blow from the Northwest Railway excursion train that runs nearby.
If you ever wondered why the name, Livingston Junction, it's because it's named after a hollow down below the cabooses at the intersection where the original railroad from Seligman, Missouri headed south to Harrison, Arkansas.
The best part about staying here is you're not far from downtown historic Eureka Springs and rates are very reasonable. Personally, I think this would make the perfect getaway this fall when the leaves are changing.
In fact, here's what Shirley Mucha Smith said about staying here.
We've stayed here last year in #101. Best relaxing time ever! Close to town but away from it all! Unique and comfortable and the grill and hot tub were a plus! Will be back!
is one drive from Texarkana that will certainly be worth the trip.
LOOK: Here are the best small towns to live in across America
Popular Child Stars From Every Year
Below,
Stacker
sifted through movie databases, film histories, celebrity biographies and digital archives to compile this list of popular pint-sized actors from 1919 through 2021.