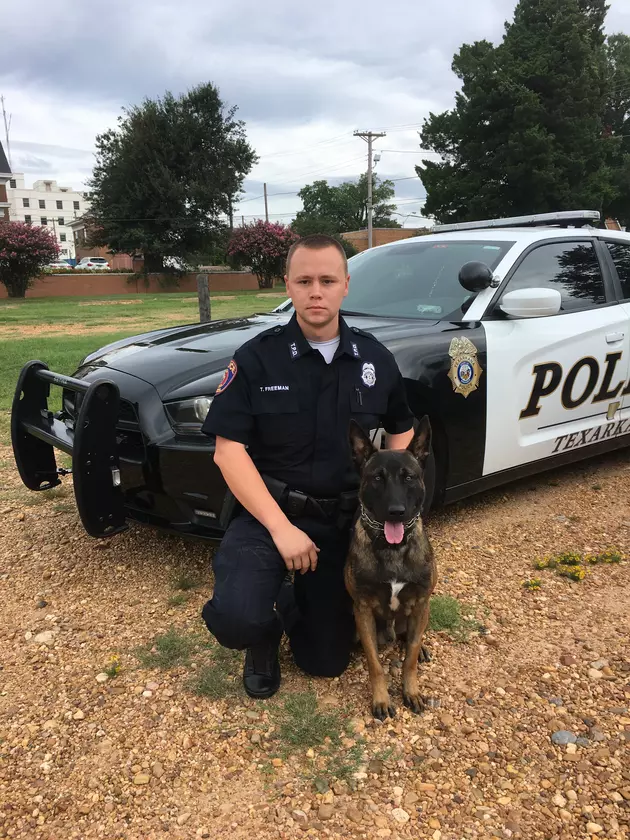 Texarkana Arkansas Police Introduce New K-Nine
TAPD
The Texarkana Arkansas Police Department has introduced their newest Officer, K9 Rossi, a 17-month-old Belgian Malinois.
According to the police department, Rossi and his handler, Officer Tanner Freeman, recently spent 12 weeks in Oxford, Florida at Police Service Dogs Training Center (PSDTC) training together as a team.   Rossi was imported from Europe to the PSDTC where he was chosen by TAPD.  Rossi will work with Officer Freeman in Narcotics detection, criminal apprehension, building searching and tracking.
The Police Department would like to thank two donors who gave funds towards Rossi's purchase.  Commercial National Bank Chief Executive Officer Julia Mobley donated $8,000 and 8th Judicial District South Prosecutor Stephanie Potter Black donated $8,000.
This is not the first time the Ms. Mobley has donated funds allowing us to purchase a Police K-9.  The Police Department is very thankful for both of these donors and their constant support of the Texarkana Arkansas Police Department.
Without their generosity, we would not have been able to purchase Rossi and provide a valuable tool for law enforcement within our community.