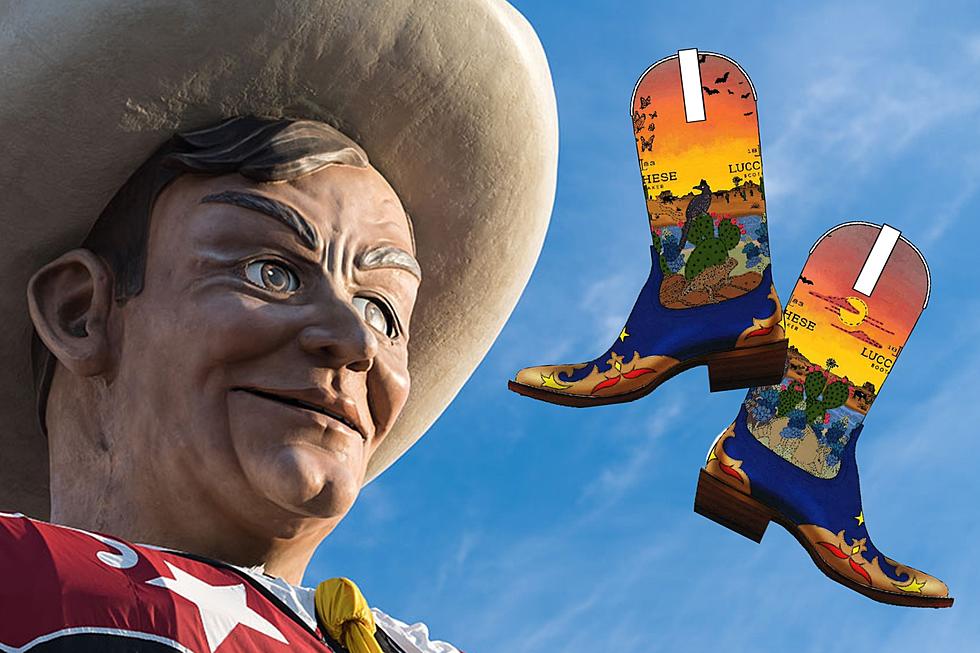 Big Tex Is Getting New Boots For 2023 – State Fair of Texas Insider
Big Tex Boot Design winner 2023 - Canva
I know what you're thinking, "how can I get me a pair of those?" You can't, but Big Tex is going to enjoy this new pair of Lucchese boots this year at the State Fair of Texas.
The Big News for Big Tex is out today about the new pair of boots he will be wearing at the State Fair of Texas this fall. The winner of the 2023 Big Tex Boot Design Contest is Jessica Bonilla of Irving, Texas. As a Texas native, Bonilla grew up going to the State Fair every year. At the young age of 23, she is a licensed social worker who earned both her bachelor's and master's degree in the DFW area from the University of North Texas and the University of Texas at Arlington.
"While I work in the mental health field and substance misuse field, I also run a small business selling my art," said Bonilla. "I heard about the Big Tex Boot Design Contest, and I really wanted to challenge myself to draw in a new style that I'm not as familiar with. I am beyond excited that my design was selected to be featured on Big Tex and I will have the opportunity to share my art with millions of people!"
Jessica's design won out after more than 300 entries were sent in from competing artists whose ages ranged from 10 to 79. After a panel of judges narrowed the field down to five finalists, each one was judged on creativity, representation of Texas pride, and design for Big Tex.
Everything is big in Texas and these are the biggest and best-known pair of boots in the Lone Star State, so they have to be good. As the first-place winner, Bonilla receives the opportunity to work with the State Fair of Texas and Lucchese Bootmaker to put the finishing touches on her boot design.
You can check out Bonilla's winning design right there on the feet of Big Tex on your annual trip to the Fair this fall. In case you were wondering, Big Tex wears a size 96 pair of boots.
The 2023 State Fair of Texas runs from September 29 through October 22 in Fair Park in Dallas, Texas. For more information, go to BigTex.com.
San Antonio - The Family-Friendliest City in Texas
AllianceTexas Aviation Expo 2022 Gallery
Biggest Home in Texas at 29,000 Square Feet
It should be no surprise that NFL Hall of Famer and former Dallas Cowboy Deion Sanders used to own this amazing home in Prosper, Texas. Shows what being really good at sports can get you. Really good at sports.