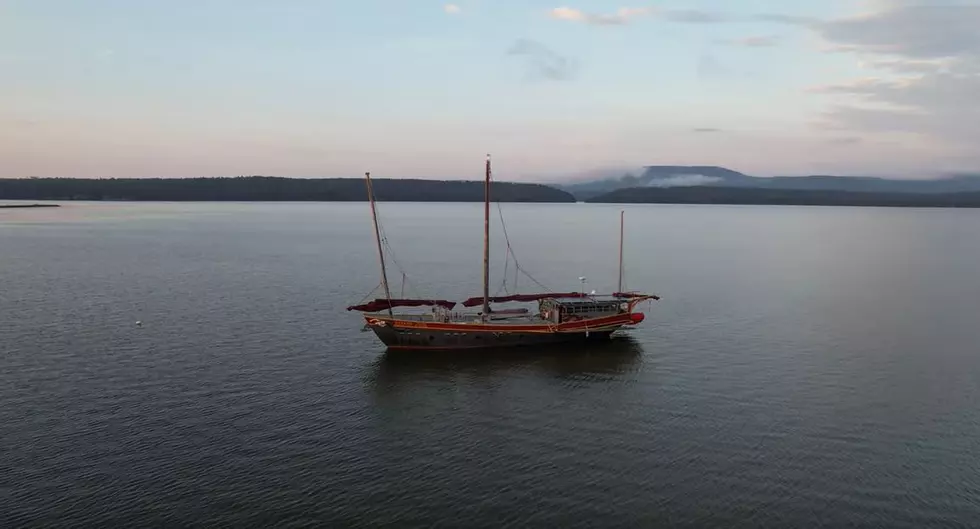 Is That a Pirate Ship on Beautiful Lake Dardanelle in Arkansas?
Youtube
It's called "the boat the internet built," because of its 200 thousand followers but many in the Arkansas town of Russelville are calling it a pirate ship.
The 74-foot-long SV Seeker steel boat is anchored down on beautiful Lake Dardanelle for some maintenance work.
Once the work is complete it will continue on its maiden voyage to the Gulf of Mexico, according to Doug Jackson, Captain of Sailing Vessel Seeker. What once was a three-mast Chinese junk rig, has turned into what resembles a pirate ship complete with cannons, dragons, and mermaids.
Close your eyes, it seems this mermaid forgot to wear a top.
Take a look at the artistry on the ship's wheel.
Captain Jackson, I'll just call him Captain Jack, has some 400 other builders from around the world helping him build the ship. It has taken 11 years in the making to see this project come to fruition but not without a lot of help including skill masters online. Formerly, Jackson had a job working in information technology but he gave up on something more adventurous.
Every Saturday, Captain Jackson invites anyone to take the ferry from the Russelville Marina or your own boat to the middle of Lake Dardanelle for a personal tour of his beloved ship.
The Pirate boat will remain in Russelville until Oct. 17, then its anchors away to the river where it will head to Little Rock.
Jackson continues to document his voyage on the Youtube page SV seeker. Watch out for pirates! Arrr!
The SV Seeker started in Tulsa, Oklahoma from his front yard. That's something you don't see in a neighborhood very often.
Watch this incredible aerial view of the SV Seeker on Lake Dardanelle in Arkansas.
Stunning Lakefront Castle in Arkansas With 13 Bathrooms
Take a look inside this absolutely stunning lakefront castle in Arkansas.