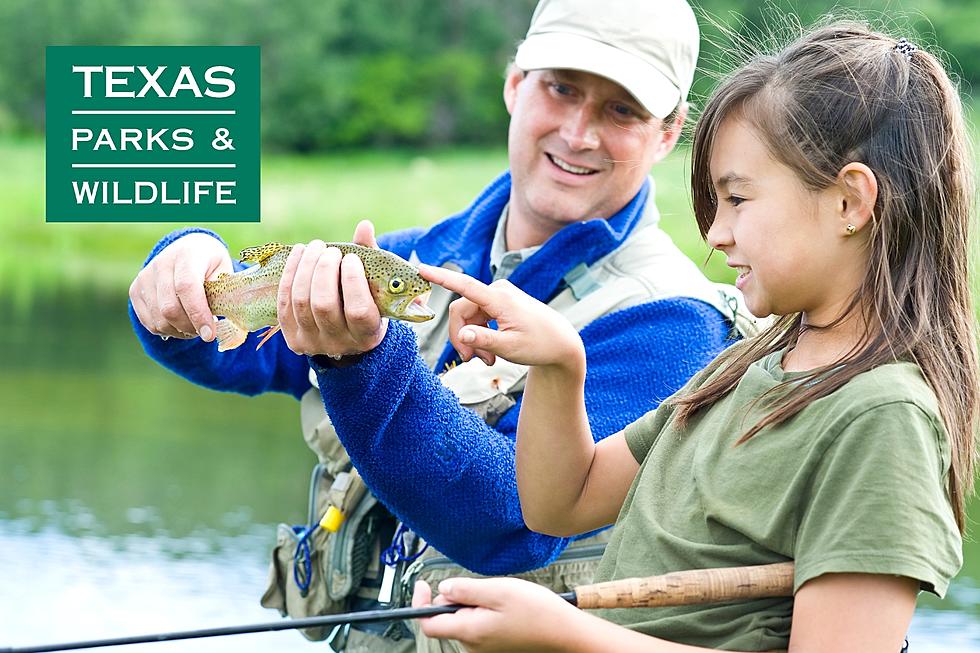 Rainbow Trout On The Way to Texarkana's Spring Lake Park
TPWD, Canva
It's almost that time of year for the Texas Parks and Wildlife Department to start stocking lakes around Texas with thousands of rainbow trout beginning Thanksgiving week and going through the winter months. The great news is, that Texarkana's Spring Lake Park is on the list. 
According to TPWD, when you fish for trout, you don't need any expensive or sophisticated equipment to catch rainbow trout. Just get out there with your fishing pole with light tackle. They do recommend bringing ice to keep them fresh once they are caught.
  When Will Texas and City Lakes be Restocked With Rainbow Trout?
TPWD will be stocking select lakes with rainbow trout starting November 22 through March 1. Anglers have a daily bag limit of five trout a day.  Trout don't survive the warmer weather here so TPWD encourages everyone to catch their 5 daily amount.
Restocking at Spring Lake Park
The restocking of Rainbow Trout at Spring Lake Park will take place on December 21 and then again on January 30, 2024. A total of 3,900 rainbow trout will be added to Spring Lake Park. You are required to have a fishing license at all of Texarkana's city parks. 
Do I Need a License to Fish From a Bank, Dock, or Pier at a Texas State Park?
At Texas State Parks you can fish from a bank, dock, or pier without a fishing license. You will still need to pay for a day pass and you can reserve it online at the TPWD website or by calling (512) 389-8900.
Carl Kittel, TPWD Rainbow Trout Program Director said in a press release,
TPWD stocks catchable-sized fish during winter months to create unique winter angling opportunities throughout Texas. Rainbow trout love cold water and can be caught on a variety of baits and lures (worms, commercially available pastes, corn, spinners, spoons, flies and more), and are great to take home and eat. Our winter rainbow trout program has been a favorite of anglers for over forty years.

 
Texas does not require a fishing license for youth under Kids under the age of 17 are not required to have a fishing license. But 17 and older you must have a fishing license with a freshwater fishing endorsement.
You can find more about regulations and keep up with the Trout Stocking Schedule online.
LOOK: 11 tick-borne illnesses and what to watch out for during your outdoor adventures
Stacker
compiled a list of 11 common tick-borne diseases in the U.S. and what symptoms to watch out for, using a variety of medical and government sources.
Gallery Credit: Martha Sandoval
LOOK: 20 tips to help your houseplants survive the winter